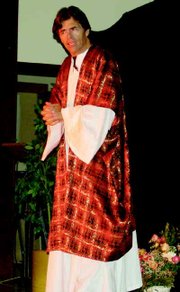 GRANDVIEW - Calling himself a poster child for the tug-of-war between Hollywood and the teachings of Jesus, Frank Runyeon thought about becoming a priest in his youth, before "following a blonde" to the bright lights of tinsel town.
This past Saturday night, the actor was in Grandview, sharing his message with Blessed Sacrament Catholic Church as part of the congregation's annual fundraiser.
The first part of his presentation involved Runyeon showing some of his acting chops by portraying the Apostle Matthew in telling a first century house church about the Beatitudes from Jesus's Sermon on the Mount.
The role play was tinged with laughter, as the spotlight followed Runyeon as he walked among the audience, singling out individuals for humorous asides such as the silk merchant and the goat farmer who were suing each other.
But there was a serious background to the cast of characters Runyeon invented, as each fit the description in the Beatitudes of those who are "Blessed" or happy according to Jesus.
In costume, Runyeon recited the Sermon on the Mount from memory. It wasn't a rote recitation, though, as Runyeon's portrayal brought emotion and depth to the passage.
The ultimate message he conveyed was to encourage the audience to "love without limits."
Runyeon returned to the present day in the second part of his talk in what he called "Hollywood vs. Faith." He dubbed it a "sermon on the media."
In short, Runyeon said Hollywood has three beatitudes that it tries to convey through the media.
Instead of finding happiness through a focus on Jesus, Runyeon said Hollywood's beatitude to children is to find joy through buying things.
"Five to six times an hour children receive the message to 'buy this'," Runyeon said. "By the time a typical child is six years old, they will have spent more time in front of the TV than with their father for their entire life."
For women, Hollywood's beatitude is that happiness comes from looking good, according to Runyeon. As proof, Runyeon said one survey showed that the three words women most want to hear are not "I love you," but "you've lost weight."
The result, he says, is a rise in eating disorders. He noted that once he did a sitcom pilot with Dolly Parton and remembered she was extremely thin. "Well, not entirely," he said to laughter from the audience, but the point is that the message to be thin is everywhere. That includes, he says, TV newscasts.
Runyeon said the problem hit home for him when his daughter nearly died during her junior year in high school from an eating disorder.
Finally, Runyeon said Hollywood's beatitude to men is that happiness comes from winning.
"I'm from Philly and I love sports," he said. That drive to win is seen on the roadways, too, Runyeon said. "Driving is a competition," he smiled. "I have trouble letting people pass me, especially on the right, that's humiliating," he laughed.
The problem, he said, is that the media message has convinced people to be "humans doing, not being."
He said at issue is that all week long children, women and men only hear the media's beatitudes and not those from the Bible.
"That's why we come here, to reset our compass," he said, referencing the church. True happiness, Runyeon said, is "when you have a relationship with your creator." He encouraged the audience to take that happiness in Christ and "share it out there with a world that needs it."