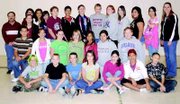 GRANDVIEW - For more than a decade students at Grandview Middle School have been provided an opportunity to assist others when a dispute arises.
Through the Peer Helper and Peer Mediator program, select students are provided three days of training in conflict resolution or mediation, which was provided last week at Grandview's Church of the Nazarene.
The students are selected for the program through nominations from both the student body and Grandview Middle School staff, according to counselor Dave Uggetti.
He said once students are nominated, their academic and attendance records are reviewed. The nominees also submit an application to the staff for the program.
"Eight students from each grade level are selected," said Uggetti.
Gail Ward stated there are a total of 24 students representing the eighth grade class as eight students are selected and added to the program each year.
"The kids really want to be involved in the program and some may be an overlap from the leadership class," she stated, saying the students in the program often possess leadership skills already recognized by other students.
Through the training provided to the students, techniques in asking open-ended questions are taught, according to Ward.
Uggetti added the students learn to recognize a problem, work with the individuals involved and mediate for the individuals.
He said the problem-solving skills provided the students benefit both students and staff at the middle school. The number of incidents requiring staff involvement is decreased and the students gain valuable tools to assist them as they grow older.
"We (staff) are nearby, but more problems are solved as a result of the partnership between students and staff members as the students mediate for their peers," said Uggetti.
He said staff members also acknowledge some students are more responsive to peer mediation than when staff members mediate. "They may feel more comfortable speaking with other students than adults," he stated.
Staff members have noted the value of peer mediation because they are more involved with the students and the process of mediation. "The number of discipline referrals is reduced, also," Uggetti added, stating administrators see "first-hand" how issues are prevented from escalating through students becoming part of the solution.
During the training, mediation skills are taught in a number of ways. The students learn in groups or by pairing up to demonstrate good listening skills and how to rephrase data provided to them.
Uggetti said he and the other staff members, including Ward, Darcy Touchette and Jodi Sabin, demonstrate poor listening skills to the students in an exercise to illustrate the importance of utilizing eye contact and interest in what another person is saying.
The students also enter into mediation with a packet that contains a mediation contract.
Uggetti said the mediation contract stipulates that anything said during mediation is kept confidential and name calling is prohibited.
Within the packet is a black and white illustration that can be viewed two different ways. Uggetti said the image illustrates how a situation can also been seen in two different ways.
He said mediation is provided in teams, also. "This eliminates the burden from being placed upon one student," he stated.
Payton Parrish has been involved with the program since she entered sixth grade at Grandview Middle School. She is now an eighth grader and said she has become more aware of her surroundings as a result of her training.
"The training teaches the importance of trust," she said, stating she feels her peers must trust her in order to feel open to suggestions she provides in resolving a dispute.
Parrish said she has had nearly 20 situations in which she has become involved during the past couple of years. "Some involved friends," she stated.
She said those situations are sometimes difficult because she must remain unbiased.
But, Parrish said, she has had the opportunity to get to know students she may not have otherwise known.
"I have grown and become more confident through the experiences," she stated.
She said she doesn't always like to be in a position of mediating, but realizes the outcome will be better through her involvement.
Sixth grader Anthony Martinez is new to the program, but said he has learned much through his training.
"I like helping others," he said of his reason for becoming a peer helper and mediator.
"I have learned you aren't supposed to interrupt and provide your own opinions," Martinez said, stating suggesting solutions to problems provides those involved in a dispute different choices.
During his training, he said he has been involved in role playing and a number of games that have taught him to be a good mediator and the value of teamwork and trust.
"I think it can help me with my family, too," Martinez commented.
He believes there will be difficult situations because he feels it is not always easy to get involved in the problems of others. But, working in teams will help him gain the confidence needed to do so.
Martinez said his first response to conflict resolution would be to obtain the help of another peer helper. "Depending on the situation, I might need to get one of the teachers or counselors," he stated.
Both Parrish and Martinez said they feel helping others is what the program is about and they are happy to be someone their peers can turn to in tough situations.