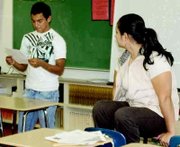 Efforts are currently underway to improve reading and writing activities at Sunnyside High School, via the use of studio classrooms.
That's according to literacy coach Sandy Schilperoort.
"We're engaging kids in learning and articulating that learning," she said. "It's a different way of looking at high school learning."
When it comes to writing, or articulating what they've learned, efforts are moving away from the traditional five paragraph essay or book report, although they still have their place, Schilperoort said. Instead, students are being exposed to "real writing that's out there in the world," she said.
Typically, students read for about 15 minutes, then partner up with a peer and discuss what they've read. A dialogue is created and the students work together to build upon ideas about what they've read.
"Together, they're building on that dialogue," she explained.
Students are being taught different ways of thinking, how to converse about what they've read and how to connect.
This leads to better writing, and a better way of a student understanding his or her audience.
Instead of writing a five paragraph essay, students are encouraged to show their journeys of thought, moving away from a student trying to focus on what the teacher wants to hear and emphasize putting personal thoughts onto paper.
Schilperoort said this is a new way of thinking for teachers and it's helping students take what they know and "go even further with it."
Studio classrooms center on ideas and the exchange of ideas, as opposed to traditional teacher lecturing.
"It's a learning community with teachers and administrators, but in the classroom, too," Schilperoort said. "We're bringing skills to the forefront everyday we're in the classroom."