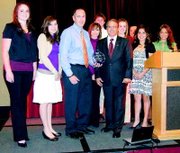 YAKIMA - The "Exemplary Youth Leadership Award" was presented to students in Sunnyside High School's leadership class last week at the Washington State Prevention Summit held in Yakima.
The class set out to work on identifying strategies and plans to overcome peer pressure for their fellow students during the 2007-08 school year. The goal was to help students within the Sunnyside School District learn the dangers of substance abuse and to abstain from using any substance, such as drugs and alcohol.
The program, however, began in 2004 when a group of students at the high school attended a Community Anti-Drug Coalitions of America conference in Washington D.C.
The program grew in strength throughout the years and the 2007 leadership class coordinated a number of activities leading to last week's award.
The class conducted a video production about local issues, held a number of school assemblies, featured skits and speakers at forums and coordinated "Every 15 Minutes" during the week leading up to prom.
The class also began teaching fifth graders within the school district about the effects of substance abuse, utilizing the Brain Power curriculum. The success of that program is being continued this school year.
The students were recognized for their efforts by Lieutenant Governor Brad Owen at the summit's luncheon held last Friday.