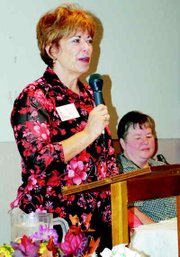 PROSSER - "We know how we react to a person in uniform," said Lower Valley Christian Women's Club guest speaker Darcy Bell of Vancouver this past Monday.
She told the members of the club how she changed her "custom fit" uniform throughout the years as she came to gain a relationship with Christ.
Bell said her life was designed first by her mother, who wanted her to be "everything she never was."
Her mother enrolled her in a variety of dance classes to build self-confidence because "mom hadn't been confident."
Bell's family moved from Oregon to a small community in California when she was a child, but the family dealt with alcoholism. That led her to strive for a "perfect" outward appearance.
She said "I was a perfect person with a perfect life. The buttons on my uniform were shiny."
Bell became a cheerleader and excelled in school. She became a lifeguard and a swim instructor, and she saved her money to travel to Hawaii after graduating high school.
Inspired by a poster of a surfer, the trip to Hawaii was intended as an expedition. She and a friend had every intention of finding someone who matched their expectations of the surfer...someone they envisioned as the perfect man.
Bell found her perfect man the second day and he later became her husband. "Everything was perfect," she said, stating her husband became a police officer, their children were exactly as she had planned and her home met every expectation she had set.
Her world began to fall apart when she was diagnosed with a disease that would eventually make her blind. "For the first time in my life I didn't know what was going to happen," Bell said.
The Bible was not something she was familiar with because it was a mystical book in her mind.
After receiving two corneal transplants, Bell said she came to the realization that someone had died so that she might be able to keep her sight.
That led her to reflect on the fact that Jesus died on a cross for her to live.
"All those years I didn't realize God was waiting for me," Bell stated.
She said she was still recovering from the second corneal transplant when she was invited to attend a Christian Women's Club meeting and learned there was something in life she wanted but didn't have.
Bell said the speaker at the meeting was "perfect just like me, but she had something I didn't...I wanted what she had."
She returned home and prayed for forgiveness from God. She asked Him to take over her life.
The result of that prayer has led her to wear a new uniform and Bell said it isn't always perfect and clean, but it fits her at all times. "It will fit anyone," she stated.