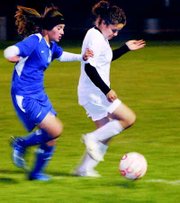 The Sunnyside High School girls soccer team looked like it might pick up its fourth win of the season last night against the Walla Walla Blue Devils.
The Grizzlies kicked and clawed their way to the lead until the 50th minute of play, and then collapsed in the last seven minutes to lose 5-2 last night.
Angelica Escalante gave the Blue Devils a 1-0 lead in the 20th minute of play, but Sunnyside came back in the 37th minute, when Analisa Van Oostrum scored on a penalty kick. A Blue Devil player got a hand on the ball inside the 18-yard box for the foul.
Sunnyside's Michelle Galvan scored in the 39th minute of play to give the Lady Grizzlies a 2-1 lead right before halftime. Galvan got under the ball, headed it towards the goal, then ran up and took a shot for the score.
Up 2-1 at halftime, SHS Coach Jon Soule said his team was feeling pretty good.
"We still wanted to push it, though," he said. "We wanted to do a little better."
The Lady Grizzlies continued to play hard against the Blue Devils, keeping them out of Sunnyside's goal until the 50th minute, when Jazz Patzer evened things up.
The game was tied at 2-2 until the 73rd minute, when Walla Walla's Lauren McClanahan gave the Blue Devils the lead.
It was then Sunnyside unraveled.
Soule said the Grizzlies were looking for chances to score and got rattled when Walla Walla took the lead late in the game.
"We tried to push it up the field and got overly aggressive," he added.
This left the defense weakened, something Walla Walla took advantage of.
Paige Pontarola scored for Walla Walla in the 78th minute and then Patzer got her second goal of the night in the 79th minute to account for the 5-2 score.
"It seemed like we were headed to overtime," Soule said.
Last night's game was Sunnyside's last home game of the season so the Grizzlies honored their three seniors.
Four-year starter Teresa Ramos, two-year starter Aarika Hernandez and two-year player Sonia Saucedo were all lauded.
Sunnyside (2-10, 3-10-1) will finish its season this Saturday, Oct. 25, when the Grizzlies travel to Wenatchee for a 1 p.m. game.