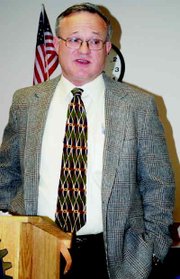 For almost 36 years, Re/Max First Advantage, Inc. owner and broker Tom Biehl has been working to serve the real estate needs within the Lower Yakima Valley, and he told Sunnyside Daybreak Rotary Club members Wednesday that the local market is not facing the same crisis as the national real estate market.
He said market sales are down nearly 20 percent from Yakima to the Tri-Cities, which is not a dire situation.
Homes once valued at $600,000 in what was once a hot market have dropped in value to approximately $250,000, said Biehl. He added that builders in markets like Texas and Florida, for example, built more homes than what was necessary.
By comparison, the local builders didn't overdevelop property like builders in those markets did during the past few years.
Another problem that has caused the national real estate firestorm is the fact that lenders provided loans to borrowers who would not have otherwise qualified. "If the borrower had a dog or a cat and a social security number, a loan was provided," Biehl exaggerated to emphasize his point.
He said the lenders would not have provided those loans had they held the loans themselves.
Because the Yakima Valley market has been relatively flat, homes in the region have been "priced right to sell" and the market's inventory is lower than it was one year ago.
Biehl contrasted the current market to that of 1981 when a "buyer's market" began and lasted approximately seven years.
At the time, interest rates rose and the market was over-supplied.
Today's market proves challenging for realtors, according to Biehl, who said finding a property best suited for a buyer is not as easy as it was in the 1980s.
He said a person who is willing to purchase a repossessed property is at an advantage because the price of such a property is typically 63 percent of its appraised value. The property is sometimes "distressed," but it is considered a bargain.
Reasonable housing prices combined with low interest rates are also drawing buyers from outside the area, according to Biehl.
He said the Lower Valley also attracts those from other areas because of its mix of agricultural, industrial and health care industries.
"I believe everything will be smoother next fall, even though there have been some snags this year," said Biehl, stating the collapse of some financial institutions did affect a few sales in the local market.
But, the improvement in gas prices combined with the attractive market leads him to feel as though the Lower Yakima Valley has "a rosy future."