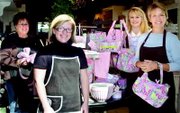 Think pink and lots of it.
That's Melange owner Karen Erickson's mantra as she promotes breast cancer awareness here in the Lower Valley.
November will mark the two-year date of the passing of one of her friends to breast cancer, Sunnyside native and SHS grad Laura Self Jennings.
In the past 10 years, there's been many a Melange customer affected by breast cancer.
Moved to action, Erickson longed to make a charitable donation to assist in the fight against breast cancer.
But finding an organization proved difficult here in the Yakima Valley. Simply put, she says, "I didn't know where to send the money."
That was until she learned of the Susan G. Komen for the Cure Eastern Washington Affiliate. Erickson says she then learned that 100 percent of her donation would be put to good use, providing mammograms for women on this side of the state who can ill afford them, and also for finding a cure.
Erickson says, "They're the biggest worldwide breast cancer research organization and they've raised more than a billion dollars."
Susan G. Komen for the Cure was founded in a promise between two sisters: Nancy Brinker and Susan G. Komen, who, on her death bed at the age of 36, begged her sister to find a cure from the disease that caused her suffering.
What strikes Erickson is the fact that 100 percent of donations are used for that purpose, not administrative costs, which makes her somewhat wary about donating to other organizations that do not specifically focus on breast cancer.
"We (as women) need immediate help (in fighting the disease)," she says, adding, "One in eight women will get breast cancer."
It is important to note that Komen's foundation isn't the only one that Erickson supports or brings awareness to. There's also the Vera Bradley Foundation, another entity Erickson says was created out of a tragic loss to breast cancer.
Vera Bradley has a line of products, many of which are available at Melange. Erickson explained that each year, Vera Bradley creates a specific pattern which it uses in fabric for purses, but also in print for items like office supplies. Whenever those particular items are sold, Vera Bradley sets aside a portion of the proceeds for its foundation.
Erickson's also willing to be a drop off site for cancer fighting yogurt. Well, the yogurt itself doesn't do cancer research, but each time you peel a pink lid off of Yoplait yogurt and send it in, the company donates ten cents to Susan G. Komen for the Cure.
Erickson said she's not just doing this for those who've lost their lives-she honors survivors, too. It was a breast cancer survivor that consoled Erickson at an airport after Jennings passed away. The woman, noting Erickson was distraught, took off her pink ribbon pin and gave it to Erickson.
Erickson's dedication to raising awareness is evident outside the store, with pink ribbons galore, and inside, where there are not only inventive pink displays, but pink lemonade, pink cookies, pink-wrapped chocolates and pink M&M's abound.
After all, as long as you "think pink," Erickson's happy.