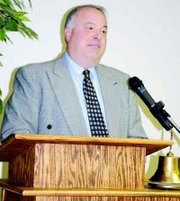 GRANDVIEW - Congressional candidate George Fearing (D) was on hand yesterday, Wednesday, making his case to Grandview Rotarians as to why he's qualified to unseat Congressman Doc Hastings.
Fearing said that through his work as an attorney, he's able to become a "zealous advocate" for his clients and set aside his personal interests. "That's how I view my role as a Congressman."
He also noted that while he's proud to be a Democrat, it will be his role to do what's best for Central Washington, which trumps his political party.
Fearing said he feels that because Central Washington is agriculturally driven, he feels strongly that he should sit on the House agricultural committee, which Hastings is not. He said it's essential to do that in order to advocate for the industry.
Fearing also said he wants to emphasize alternative energy resources.
"America is finally waking up to our dependence on foreign oil...including the Bush administration, who is finally admitting to global warming," he said. "Central Washington could and should be the leader in alternative resources."
He said that while most Democrats are opposed to nuclear energy, he is not. But he did note that Hanford is one of the most contaminated radiological sites, "second to Chernobyl." He said if he's elected, he'll work with the Department of Energy to get Hanford caught up in terms of clean-up.
When he noted the contamination, he also noted a great deal of pride in Hanford's role in World War II and the Cold War.
"My primary task is to make sure the federal government lives up to its promise to clean up the site."
He said that he is often asked if he would've supported the bailout plan and the answer is no, for several reasons.
He said it didn't address the root cause of financial woes, or, as he put it, the deregulation of banks.
He also said it contained pork spending elements and that it focused more on banks and not homeowners facing foreclosure.
But, he said, "I would've worked hard for a plan that addresses the issues."