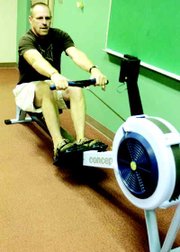 The weight and fitness rooms at Sunnyside High School got an upgrade over the summer, with all new equipment replacing the outdated gear.
"Health and fitness became part of the WASL this year," explained Sunnyside High School teacher George Paulus. "We had to focus on our equipment and upgrade everything."
Paulus said the school district received approximately $400,000 for upgrading Sunnyside schools, with about $130,000 set aside for Sunnyside High School.
"We're a full fitness operation now," he added.
Health and fitness will not be on the WASL test but instead students will be tested by a class-based assessment.
Before the upgrade the weight room had four benches and four squat racks. Paulus said students were constantly moving around the room trying to get to the proper equipment.
That's all changed now.
"It's much more efficient and more conducive to learning," Paulus said.
Now there are nine power stations in the room. Four students are assigned to each station, accommodating 36 students at a time. The students work with the same four-student crew all year.
Each power station is equipped with everything the students need to work out.
"There's no waiting and people don't have to walk around," Paulus added.
Another benefit to the stations, Paulus said, is he can have the entire class work on the same techniques at the same time, making it much easier to teach lifts.
"It's easier to monitor what everyone is doing," he added.
Another change this year is that all the weights are now rubber coated instead of having metal casings. This results in a much quieter weight room and the equipment take less abuse.
In the fitness room all new bikes, rowing machines, stair climbers and cable draw machines have replaced all the Nautilus equipment.
"There's nothing like new stuff to get everyone energized," Paulus said.