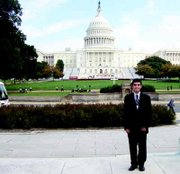 Sunnyside High School sophomore Uriel Osuna spent his summer raising funds throughout the community for his recent trip to a Congressional Youth Leadership Council conference in Washington D.C.
His efforts were worth it, he said, stating he was provided a number of learning opportunities at the event.
The six-day conference kept Osuna busy. He said he met other youth from across the nation while there.
"We were brought up with different backgrounds and viewpoints, but we all wanted the same goal...to do our best," he said.
Osuna said he learned how to express himself and work toward a variety of goals as a result of his experience.
One such experience involved his taking part in a debate regarding immigration. "I was part of the Democrat party," he stated, saying his opinions already matched the arguments of his party.
Osuna said the Republican party debated immigration laws currently in place should be enforced and illegal immigrants should not be allowed in the U.S.
He and his group argued for citizenship of those who have been in the country for 10 years or longer.
Another debate took place regarding the official national language. Osuna said he feels English should be the primary language, but as a free country other languages should continue to be welcome.
Because he already agreed with the arguments, he said he had to research the facts regarding both issues.
"I couldn't just debate my opinion. I had to reinforce them with facts," said Osuna.
He said he attended a workshop on creating grassroots projects and a seminar teaching him about college enrollment practices.
In the workshop, Osuna learned understanding current issues and being actively involved in politics is important.
The seminar helped him to understand scholarship and college enrollment application processes.
"They explained a person doesn't just have to be a bookworm to get into college," Osuna commented.
He said he was informed that involvement in community projects, activities, sports and a well-rounded transcript are as important as the grades one receives in the classroom.
"Also, to become what you want in life, you don't have to go to the college or university with the best reputation," Osuna stated, saying students seeking to further their education should choose the academic institution that best fits their career goals.
Public speaking was an area in Osuna's life he felt apprehensive about. He said the conference helped him learn to prepare for speaking opportunities and how to overcome boundaries that may hinder him from speaking before an audience.
The conference schedule didn't involve all work and no play, however. Osuna said he and his peers toured many of the national monuments, including the White House and the Capitol building.
"I was really impressed with the Vietnam Memorial," he stated. He said he was astounded at the number of names listed on the memorial wall and the size of the wall took him by surprise.
Another tour took Osuna to the Pentagon and the site of the 9-11 terrorist attack on that building.
He said his trip was made possible through the generosity of the Sunnyside Fire Department, the Sunnyside Police Department and numerous community members who contributed through the purchase of tamales this past summer.
"I had to work all summer to earn the $3,000 for the trip, but it was totally worth it," said Osuna.