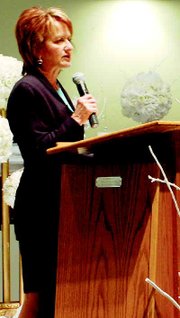 "Wow!"
That was the reaction by an expectant mother last night when she saw the first sonogram of her baby at 11 weeks.
That reaction was heard and shared by about 250 people Thursday night during Life Options' annual fundraising banquet at Neighborhood Church.
The sonogram, done in privacy but with the results displayed on three walls around the church auditorium, was part of a presentation last night by Dan and Connie Ambrecht of Sonography Now. The couple shared their testimony of how back in 1976 they became pregnant when just boyfriend and girlfriend and aborted a baby they now call Aaron.
"Aaron would be 32 now," said Connie. "We could have been grandparents by now."
Wow!
That could also be the reaction to the big news to come out of last night's banquet: Life Options has a home in Sunnyside for its Life Options 2 expansion.
Life Options Executive Director Jan McDonald told the crowd last night that the ministry will share space in the new Swofford-Halma Clinic now under construction just off East Edison Avenue, in a business park planned by the Port of Sunnyside.
McDonald said a minimum of $25,000 is needed to get the Sunnyside project up and running. She said a portion of the $43,155 raised at last night's banquet will go towards the office, an expansion in addition to Life Options' Grandview office.
"We haven't got all the money yet (to operate a Sunnyside office) but we're coming to Sunnyside, period," McDonald said this morning.
She noted an additional $12,000 was provided by underwriters to pay for the banquet so that it would be at no cost to the general public.
McDonald said 2008 has been good to Life Options in terms of fundraising, including last night's banquet.
"Life Options is not participating in the recession," McDonald told the crowd last night, which responded with laughter and applause. McDonald said this morning that the generosity in 2008 is "because God is ready for Life Options to expand."