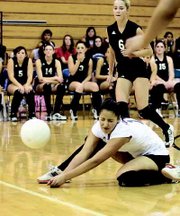 It was a familiar refrain for the Sunnyside Lady Grizzly volleyball team last night.
Sunnyside started strong in the Thursday night home match, losing the first game 25-16 to visiting Wenatchee, before falling 25-12, 25-10 in the final two games of the 3-0 loss.
"We have a hard time with serve-receive," said Sunnyside Coach Mikal Aberle. "This has been an ongoing struggle all season."
As for the solid start, Aberle noted, "In the first game we scored the first two points and then allowed Wenatchee to get a seven-point run on us. We were close in the first game and then we just couldn't stop some of their servers."
Sunnyside was led by Janelle Mendoza and Melissa Amaro with 17 and 12 assists, respectively. Alissa Martin helped the Lady Grizzlies with 22 perfect passes. At the net, Kiana and Lani Ramos had seven and five kills, respectively. Jill Spini added three blocks for Sunnyside.
The loss drops Sunnyside to 0-9 in league play and 0-10 overall.
The Lady Grizzlies will look for their first victory next Tuesday at home against Davis.
Aberle said her team is showing progress despite the so far winless campaign.
"I am proud of them for working together as a team and supporting each other," she said. "My girls' intensity has gotten a lot better."