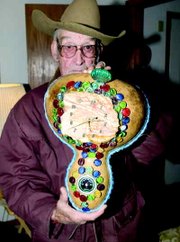 It's hard not to notice them when visiting the Sunnyside home of Delvin and Pairlee Householder.
Them is gourds, and lots of 'em.
There are gourds in the house that resemble various objects and even some that tell time. There are gourds in the garage that are almost dry after being hung for a year. Then there are the gourds in the garden, five rows of them, waiting to be picked by Delvin in the near future.
The amount of gourds at Householder's home is impressive, but nothing compared with how many gourds are at the couple's Ellensburg home.
Why does Householder have so many gourds?
"It's good medicine and it takes a lot of time. It's therapy, you know," the retired man said.
Householder has been growing gourds since his wife's sister suggested it to him. She thought he might like to try it.
Originally, Pairlee's sister suggested Householder grow the gourds and then have Pairlee decorate them.
"I decorated maybe one of them," Pairlee admits.
After that, it's been all Delvin.
Picking up a few books on the subject, Householder decided he wanted to make things out of the decorative gourds. Five years ago he started his first garden.
He grows several different types of gourds, including tobacco bowls, bushel gourds, birdhouse gourds and goose gourds.
"You never know what you're going to get because they can cross pollinate," he said. "It's really fascinating to watch them grow."
After the gourds are done growing, Householder will pick them and then let them dry for about a year. When first picked the gourds can weigh as much as 50 lbs. but after they've dried for a year, they are as light as a feather.
Once dried, Householder said he cleans them up, puts a finish on them and then decorates the gourds.
"You can paint them, burn designs in them, all kinds of things," Householder explained.
So far he has made a clock, a lamp, maracas, piggy banks, bowls and vases, all from gourds.
He has sold them at yard sales but prefers to give them away to friends and family.
The gourds are grown using a trellis system. Householder estimates he uses about 10 miles of string to keep his gourds off the ground.
"They take a lot of water and a lot of fertilizer," he added.
In the gourd garden some of the gourds have masks on them. Pairlee explained that if a mask is put on them early enough, the gourd will grow into the shape of the mask.
Householder will be busy this winter if this year's crop is any indication of last year's. In his five rows of gourds Householder says he has about 2,000 gourds.