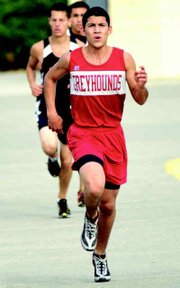 PROSSER - Eleven cross country teams competed at the Prosser Invitational this past Saturday. Of those, the Grandview boys team earned third place honors.
Greyhound Jose Mendez was the top finisher for the team, completing the 2.9-mile course in 16:22 for a third place finish.
"Jose continues to run with the front of the pack," commented Grandview assistant coach Renee Van Pelt, stating the Prosser course includes a steep hill that must be climbed three times during the race, which causes some difficulty for the runners.
The boys race winner was Toppenish's Ben Villanueva, who clocked 16:07.
Grandview harrier Koty Kollmar battled shin splints, but finished the race with 15th place honors.
"Mario (Prieto) and Micky (Moore) ran a tremendous race and we need another one like that next week from both of them for our boys to have a good shot at making it to State as a team," said Van Pelt.
Prieto earned 16th place honors with his time of 17:24 and Moore was right behind him with a time of 17:25 for 17th place honors.
The Grandview girls team consisted of three runners this season, Vannessa Gamboa, Krystal Martinez and Mercedes Bryan.
It is Bryan's first year of competition and Van Pelt said, "Mercedes has performed well...(she) continues to work hard and try her best."
The young harrier completed the course at the Prosser Invitational in 28:19, wheras Martinez and Gamboa finished in 22:55 and 22:56, respectively.
Grandview will compete at Districts this coming Saturday, Nov. 1. The competition will take place in Selah and Van Pelt said the team will work this week on its performance climbing hills due to the fact that the Selah course will require runners to traverse a hill three times.
The top 15 finishers in both the boys and girls races will advance to State, which is scheduled for the following weekend.
More like this story