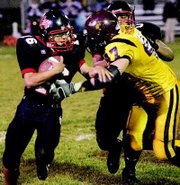 The Sunnyside High School football team found itself in a shoot-out at Clem Senn Field this past Friday with Moses Lake.
Unfortunately the Grizzlies couldn't keep pace as the Chief's quarterback, Joshua Loera, rushed for 144 yards and a score, plus threw for 220 yards and a score against Sunnyside.
"Their QB is probably the best athlete in the league," Sunnyside Coach Mark Marro said. "He was named offensive player of the year last season."
Loera passed to seven different receivers in Friday's win, with Chris Richardson catching four passes for 102 yards.
"He threw the ball well," Marro said of Loera. "We knew going into the game we were going to give up some passing yards. We were hoping to not give up many rushing yards, though."
That plan fell flat as the Chiefs amassed 353 yards and six touchdowns on the ground.
"We were getting physically man-handled," Marro said.
Sunnyside was able to move the ball on offense but Marro said his defense couldn't stop the run, noting his defensive line was being moved by Moses Lakes' offensive line.
"We moved the ball well," Marro said. "We had some exceptional yardage gains. We also threw the ball well."
Marro pointed out the play of freshman Israel Manzo.
"He really came into his own this game," Marro added.
Manzo scored three touchdowns for the Grizzlies, getting scores on a 65-yard reception from QB Andrew Daley, a 12-yard reception from QB Michael Rodriguez and rushing for a 71-yard touchdown.
The Chiefs built a 17-6 lead after one quarter and by halftime led 37-20.
Part of the Chiefs' success came in part because Sunnyside was missing starting middle linebacker Jacob Arrevelo.
"We had to shift our linebackers around and bring up a safety to cover that," Marro explained. "That kind of caused a domino effect."
Moses Lake held a 58-20 lead in the fourth quarter until Leo Cuellar took a Rodriguez pass 81 yards for a score.
"Both quarterbacks threw the ball well," Marro said. "They're both making better reads and just mentally playing well."
Daley completed three passes for 103 yards and a score in the first half. Rodriguez completed 7 passes for 146 yards and a touchdown in the second half.
Mario Saldana led the Grizzlies on the ground with 80 yards on 12 rushes. Manzo had 73 yards on just six touches.
Manzo led the Grizzlies in receiving with 115 yards, followed by Cuellar with 102.
Sunnyside (2-5, 2-6) will host the Hanford Falcons Friday, Oct. 31, at 7:30 p.m. The winner of this game will receive the CBBN's lone 3A playoff berth.