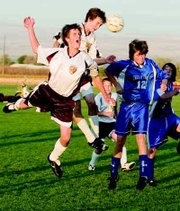 The Sunnyside Christian High School boys soccer team scratched and fought its way to a 4-1 win against Trout Lake this past Friday.
The win gives SCHS the third and final playoff spot for the Columbia Gorge 1B League.
Barring a Trout Lake upset against Riverside Christian Academy this Tuesday, SCHS will play Riverside on Thursday, Oct. 30, in Yakima in the first round of the playoffs.
Sunnyside jumped out to a 2-0 lead at halftime last Friday, getting goals from Devon Swofford and Steven Bosma.
In the 22nd minute of play Swofford received a pass and then neatly popped the ball into the corner of the net for a 1-0 lead.
In the 40th minute of the first half when both teams were playing in injury time, Bosma received a perfect cross pass from Tim DeVries and put his head on the ball to get the score.
"It was probably the most beautiful goal of the season," SCHS Coach Tim DeGroot said.
Up 2-0 in the second half, the Knights added to their lead when Grant Stutesman was taken down by a Mustang player in the box, setting up a penalty kick. Bosma did the honors to give SCHS a 3-0 lead.
Swofford picked up his second goal of the game in the 68th minute of play, again assisted by Bosma.
Luke Dearden scored for the Mustangs in the 77th minute of play.
Both Swofford and Nathan Groenewold teamed up in the keeper position for SCHS. Swofford had four saves and Groenewold recorded 15. Jacob Wells made three saves for Trout Lake.
The Mustangs outshot the Knights 15 to nine.
On Saturday SCHS hosted Riverside Christian and lost big, 10-2.
"It's amazing," DeGroot said. "We played them last Tuesday and lost 3-2. We got scared again. You could see it. We got some things to work on."
Derrick Byrne lit the Knights up for four goals. His teammates, Delwin Bezilme and Jeremy Pynch, each added two goals for the Crusaders.
SCHS didn't get on the scoreboard until the 76th minute of play, when Groenewold took a pass from Bosma and put it past Riverside's keeper.
The Knights earned another goal in the 77th minute after Bosma was fouled inside the 18-yard box. He took the penalty kick himself.
"We were outmatched in this game," DeGroot added.
A blow to the Knights came early in the first half when Ryker Van Belle went down with a hip injury. DeGroot said the loss was especially hard to take because Van Belle is his team's most physical player.
Van Belle's status will be day-to-day.
SCHS (2-6, 4-10) will finish its regular season Tuesday, Oct. 28, when the Knights travel to Moses Lake to take on Moses Lake Christian Academy at 3:30 p.m.