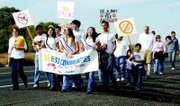 Numerous Grandview and Sunnyside residents banded together this past Saturday to participate in a peace march that began in both cities and met halfway at Sunnyview Park on Yakima Valley Highway.
"Only through joining forces as a community of concerned and capable individuals can we replace the negative influences with positive alternatives," said Grandview United's Melodie Smith, who, together with her husband Brad, helped organize the event.
The march coincided with national "Make a Difference Day," and each participant walked away feeling empowered by their experiences, particularly legislative Representatives Bruce Chandler and Dan Newhouse, who trekked from Sunnyside High School with fellow violence protestors.
"It's important to be here, to be part of the effectiveness of a community, to be involved," said Newhouse Saturday, adding that the march and following rally gives him tangible tools to take back to Olympia for effective legislation. "(It will allow us) to make the case for ideas that can help our communities."
Chandler agreed. "It's a powerful statement that the communities are standing together to make a difference, to make communities safer. It's that power that will make us succeed.
"The gang bill last year was important, but it was just the beginning."
Chandler and Newhouse were joined by Grandview Police, Sunnyside Police Explorers, Sunnyside and Grandview city council representatives, high school students from both communities, members of the anti-gang and pro-peace group Barrios Unidos, Grandview United, the Miss Sunnyside court and more, including grieving mothers who lost their children to horrible acts of violence.
Susan Underwood took to the stage to talk about her son Kevin's violent death. The younger Underwood was stabbed to death a few years ago. She said of those responsible for the violent attack, "They have sentenced us to a life sentence of pain and suffering."
Maria Reyes bravely took the stage and told the crowd that her son was also gunned down after trying to leave his place of work in Toppenish last year. She describes the night she found out about the attack as "the worst night of my life...to this day, I still hope to see my son walk through the door, to hear his laughter."
Maria Rosa Quevas lost her two sons, Jose and Jesus, to senseless acts of violence. Quevas brought pictures of her sons to the event and placed them on the stage. In the center was a picture of one of the sons in the hospital dying after the attack.
"When this happens, your pain never goes away. I remember my sons, I remember Jose was ready to go to Rome and Paris. He already had the tickets." Pointing to the pictures at her feet, Quevas said, "This is the consequence of violence." She then sang a song for the crowd, calling it her favorite song and expressing to the crowd that singing it makes her an instrument of peace. She when she learns of children dying violently, she offers to play the song, sung in Spanish, at funerals.
Of the day's events, Barrios Unidos Executive Director Alex Santillanes said if there is one thing he wanted people to walk away with, it's the knowledge that each and every individual is brave.
"Unity is a force that can create (great) change," Santillanes said.
Santillanes echoed what the previous three mothers had said. "There is no winner (when it comes to violence). For a lifetime, the families of both sides (in gang violence) are the victims."
Santillanes said he's hopeful that Barrios Unidos chapters will be formed in Prosser and Sunnyside as a result of the peace march. There is already a budding group in Grandview that meets every Tuesday at 5 p.m. at the Grandview School District administration building.
Grandview High School senior Rosio Jacobo is a member of the group. The death of a classmate shortly into the new year, coupled with the fact that she'd earnestly like to protect her kid sister Diana, 13, from gang violence, is the impetus for her involvement.
"I have a little sister and I don't want to see her get into trouble (or worse). I don't want to see it happen to anybody."
Jacobo being a part of Barrios Unidos and participating in events like Saturday's peace march and rally, has empowered her.
"I feel like a better person, knowing that I'm doing something good in our community. I have more knowledge of what I can tell my sister," Jacobo said.