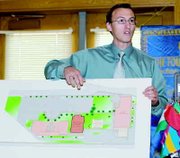 With a $2 million matching grant expected in 2009 officials from the city of Grandview and the Yakima Valley Community College branch campus are looking to drum up another $2 million to help build a new library on campus.
The YVCC campus in Grandview unveiled a workforce education center last year and according to YVCC Dean Bryce Humpherys, a growing need on campus is for a library.
At the same time, he told the Sunnyside Noon Rotary Club on Monday, the city of Grandview has a library that the city is struggling to fund.
Because of this the two entities have partnered together and entered into an agreement to develop a joint city/college library on campus.
Now it's just a matter of money.
Humpherys told the Rotarians the state legislature has identified this project as their number one priority in the next biennium budget, which all but guarantees the matching grant. Now the city and college must raise the other half.
"We either raise the entire match or lose the entire project, in which case getting funding down the road again would be slim and none."
Already $1 million has been raised and Humpherys said he is looking for another $1 million by June of 2009, so the state grant can be accessed and construction can start on the library in July 2009.
"This is something that is doable," he added.
The library will be 12,000 square feet and will house reference materials, instructional resources and study facilities.
The benefits of a new library will include additional computer technology, an enhanced collection of books and audio-visual materials, expanded hours of operation and additional space for library programming.
"The project is very valuable, not only for Grandview but the entire Lower Valley," he added.
Once the library is built it will belong to the state. Because of this the state will provide funding to maintain the building and pay for utilities. Other costs, such as staffing, books and materials, will be shared between the city and YVCC.
Those wanting to help see this project become a reality can contact Humpherys at 882-7049, or Grandview City Administrator Scott Staples at 882-9206.