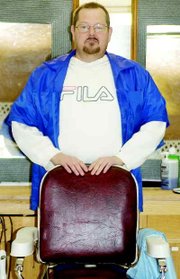 GRANDVIEW - Men craving a good, old fashioned barber from days of yore need look no further than Tim's Barber Shop in Grandview.
"At one time, years ago, a full service barber was the thing," said owner Tim Schroeder, adding that nowadays, most men who visit a barber shop simply get a cut and leave.
Not at Schroeder's. Schroeder has mastered, and appreciates, the straight-edge razor.
Once he's cut hair, he whips out the straight-edge to take care of the details on the neck and around the ears. Going even further, he says, "I use aftershave and then fan them with a towel."
Schroeder is a detail-oriented kind of guy, grooming eyebrows, the nose and ears. "I groom 'em up for the ladies," he joked.
Schroeder charges $5 for a beard trim, $10 for a haircut and offers a traditional, old school straight-edge shave for $15.
"I do the traditional barber shave with a hot towel, lay 'em back in the chair," said Schroeder. "And if the young guys want their head shaved with the straight-edge razor, I do that, too."
Tim's Barber Shop opened up Sept. 1 and is located at 511 East Second Street. He'd actually been eyeing the location for a while.
Cliff's T.V. is located in the same building and Schroeder remembers visiting there with his grandmother to fix her T.V.
Schroeder figured with the shop being located so close to the Grandview Safeway store, he'd likely get quite a bit of foot traffic. And, as one customer pointed out, he's located on the same street as most of the city banks.
Inside the barber shop, there's plenty for men and children to do should they have to wait. He's got a three-in-one game table, currently featuring pool. Come November, he'll change it to foosball. "If anybody wants to challenge me, I'm up for it," he joked. The shop also features a Playstation 2 and television. "I've got the hunting channel for men," he said.
Schroeder said he's got the ideal job. If there are two customers in the shop, one in the chair and one waiting, "I get to talk about hunting and fishing every ten minutes and get paid every ten minutes."
Schroeder is open for business Tuesdays through Fridays from 9 a.m. to 6 p.m. and on Saturdays from 9 a.m. to 5.