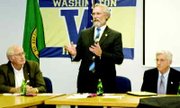 Robert Joel (Bob) Hadeen, 84, passed away Saturday, Oct. 25, 2008 in Spokane.
He was born March 29, 1924 in Dawson County, Neb. to Joel A. Hadeen and Laura May Knox. He served in the Armed Forces during World War II.
One of his greatest joys was receiving pictures and hearing from his children, grandchildren and great-grandchildren. He had a passion for raising and showing Arabian horses. He was a people person and enjoyed helping others. He worked in the clothing business for many years. He was a member of the Church of Jesus Christ of Latter Day Saints. In later years, he also enjoyed doing genealogy work.
He is survived by his companion, Carla Reeme; daughters, Toni Levitt (Bob) of Philadelphia, Pa., Colleen Gray (Rulon) of Othello, Doreen Fife (Terry) of Bellingham, Bobbie Beesley (Clayton) of Weiser, Idaho and Lisa Roach (Lonnie) of Idaho Falls, Idaho; 19 grandchildren; and numerous great-grandchildren and great great- grandchildren.
He was preceded in death by his parents, Joel and Laura Hadeen; third wife, Getha; brother, Ray Hadeen; and sister; Illa Richards.
He will be buried at Lower Valley Memorial Gardens in Sunnyside.
You may send condolences to the Hadeen family at www.valleyhillsfh.com.
Valley Hills Funeral Home in Sunnyside is in charge of arrangements.
More like this story