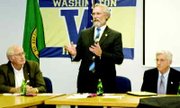 Sunnyside School District officials, as well as other school officials from neighboring districts, met with Sen. Jim Honeyford, Rep. Bruce Chandler and Rep. Dan Newhouse last night for a dinner and roundtable discussion.
"Basically on a good day, we know we'll have a $3 million deficit," ESD 105's Jane Gutting told legislators. Having said that, she then detailed the Washington Association for School Administrators South Central Region perceived challenges for the upcoming legislative session.
First and foremost, the group's main concern is that public schools are fully funded. Its legislative platform for 2009 centers around that and notes key elements, including working with legislators to implement a new system of finance for K-12 schools that is sustainable, predictable, fairly allocated and fully funded by 2015. Also important to the group is eliminating mandates that are not necessary to ensure a quality education, supporting legislation that will improve retirement and health benefits for school employees and retirees, and the support of sending a state constitutional amendment to the voters that would allow school levies to pass with a simple majority of the people.
Keeping funding intact is also important to the group, like I-728 funds. There are many things a school district can use that funding source for, including providing early assistance for children who need pre-kindergarten support. Gutting emphasized that taking funds from I-728 for other programs could have a negative impact on younger children and their parents, should pre-school not be an option.
Gutting also mentioned the need to keep COLA funding intact, as well as levy equalization and full day kindergarten.
Sunnyside School District Business Manager Angela Watts helped legislators by providing information as to how funding impacts this district.
In Sunnyside, for example, levy equalization funds amount to $5.1 million. She said if that money was not available, Sunnyside would not be able to provide things like safety equipment and personnel, music and arts programs, extra-curricular programs and excess utility monies not covered by the state.
In terms of funding for full day kindergarten, Watts said the district receives $1 million, which provides 34 teachers in this community, and the funding helps 515 students who wouldn't otherwise receive it.
Gutting addressed CORE 24, a new set of credit requirements currently being considered by the Washington State Board of Educators. "If they don't find new funding for that, we don't want to hear about it," she said.
Also discussed was three funding models being proposed right now: one of which will be harmful to this area but good for the west side of the mountains, one that will have little to no impact on this area and one that would be beneficial in this area.
On the school administrators' list of items to oppose is the revision of the environmental health and safety rule.
Gutting said, "If that goes into effect, we will have to pay for it with basic education funding unless new money comes in. It takes money out of the classroom."
Honeyford began the discussions by saying, "I don't think there's going to be new funding. You have to try to hang on to what you have."
Honeyford and Chandler said that a bill is likely going to run through the House and the Senate to allow local school districts to opt for a four-day school week.
Chandler said, "There's no reason to prohibit people from doing that if it works for them."
In addressing the state's finances, Chandler identified three issues that have been implemented, but not funded, including paid family leave, insurance for children and certain tax credits.
"None of these have been funded and there is no reason to believe they'll be funded next year.
He also noted that the timber industry on state lands once funded school construction, but that's no longer the case. Now it's the wine industry on state land. "We can't afford for the wine industry to slow down, even for one year," he said.
Newhouse said that with it being an election year, it depends on what happens Nov. 4. "We can see totally different directions in many different areas of education."
He said simply maintaining what the state currently has in place could be a problem.
Maintaining the state's current budget, he said, "Isn't going to be easy."
Newhouse also added that more control needs to be left to local school districts. "(I) can't stand the fact that we (as a state) think it has to come from a central location."
At the end of the discussion, Newhouse said, "We can't change everything, but we'll sure go to bat for you."