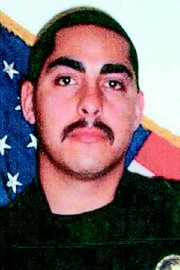 GRANDVIEW - At the beginning of this month, significant changes were underway at the Grandview Police Department.
Longtime detectives Seth Bailey and James Driscoll went back on the streets in patrol cars, and Mitch Fairchild and Rick Abarca set up shop in the detectives office.
But that's not all. Police Chief Dave Charvet has dedicated Abarca's work to strictly gang investigations.
Fairchild is covering personal and property crimes. "(He's) covering both parts so we can devote one individual to gang issues in our community," said Charvet.
Now that Abarca is working full time gang investigations, it will free up his time to communicate with other police departments and document and track gang data.
Abarca actually began working on documentation when he was on patrol. "Eventually I figured I was going to be doing a little bit more," Abarca said.
That day has come. "It's easier to give it a focus just being in the position," Abarca added.
The switch-up in the police department took place earlier in October, and Abarca said it's already paid off, but declined to be specific.
He did say he was able to dedicate all of his time to the last gang-related shooting a couple of weeks ago.
"Since I've been doing this, I've also been able to add public (speaking about gangs). I (recently spoke at) Harriet Thompson school. And I'm able to address concerns of local citizens," Abarca said.
Fairchild's not new to the detectives office. He worked in that capacity with current Assistant Chief Mark Ware. Fairchild said about four years ago, Bailey and Driscoll moved into the detectives office and he went back on patrol.
Now he's back and one of the first things Fairchild tended to was tracking sex offender registration in the community. Four offenders were behind on their paperwork. Fairchild said he has found three of them and updated their paperwork, but is having difficulty tracking the fourth.
Working detective hours as opposed to patrol shifts is working out for Fairchild. When asked if he was enjoying the switch, he said, "I do. And my wife enjoys me being home, too."
Of the recent change, Fairchild added, "It's a change of pace. Change is good."