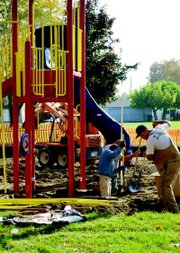 GRANDVIEW - Youngsters in Grandview will soon have new playground equipment to romp on.
The equipment was originally slated to be installed at Westside Park earlier this year. However, demands on those volunteering to install it were high and those volunteers, employees of Columbia River Steel and Construction, have just this week begun to erect the new playground.
Westside Park is the last of Grandview parks with existing equipment to receive a new playground.
Parks and Recreation Director Mike Carpenter said, "Our parks had a few pieces of outdated equipment and we were fortunate enough to receive a $15,000 grant from Yakima Valley Community Foundation for a new playground at Westside Park."
He said that money was matched by an anonymous donor who has contributed funds for each of the playgrounds that have been fitted with equipment recently.
"It is a community effort, though," said Carpenter, stating Grandview's Kiwanis Club, Chamber of Commerce and Senior Citizens Club contributed $500 each to the new playground project. Wilbur-Ellis Company donated $250 and Teddy Bear Corner Daycare and Pre-School raised more than $3,000 to replace outdated equipment at the park.
"We are reliant upon volunteers, such as Compass High School students, to install the equipment and drainage," said Carpenter, stating the survey work was donated by Huibregtse Louman and Associates.
"This has truly been community driven," he commented.
The equipment being installed at the park was decided upon as a result of input from elementary school students in Grandview. Carpenter said the students wanted the "x-wave," a piece of equipment that provides motion and balance, much like a teeter totter.
Another element being installed is the sky runner. He said children are able to grab ahold of the steel frame of the component, which is mounted on a pole, and the weight of the child causes them to lower to or rise from the ground.
Rock climbing walls and slides are always popular with children. Therefore, those elements are also being included in the playground at Westside Park.
"And, all the equipment is Americans with Disabilities Act accessible," said Carpenter.
In the future, he said benches for adults supervising children on the equipment will be added.
Because community members were instrumental in bringing in the new playground equipment, Carpenter said he is grateful for all the hard work and contributions made.
He said members of the Kiwanis Club and the Grandview Playground Committee deserve credit for the upgrades.
Carpenter said the playground equipment should be completely installed in the next couple of weeks.
&nbsp