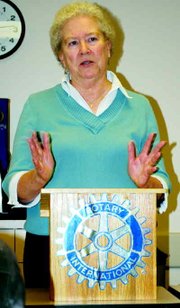 A number of residents in the Lower Yakima Valley who are either limited in the English language or do not speak English at all also are limited in a number of educational areas.
That's where Nuestra Casa comes in, according to Sister Mary Rita Rohde, who spoke at Wednesday's Sunnyside Daybreak Rotary Club meeting.
She said the services provided at Nuestra Casa serve more than one purpose. "We don't label classes as parenting classes because we have found attendance is low when we do that."
Rohde said the organization, which is funded by donations, provides parenting skills in conjunction with its classes. Those classes include adult Spanish literacy, English as a second language, GED math, driver's education and other educational classes.
She said the agency formed with the purpose of educating Spanish speaking women and families, but serves anyone in the community needing its services.
The citizenship class offered at Nuestra Casa consists of 10 weeks of education. Rohde said earlier on the enrollment in that class was higher than it is now and the driver's education class has also seen a decline in numbers.
She stated those who are involved in the driver's education classes are taught to prepare for the written driver's exam. A police officer teaches the course and a number of those attending already drive. The two key elements learned by those in the classes include the need for liability insurance and motor vehicle registration.
Rohde said it is apparent those in the class are already able to drive, but lack knowledge regarding laws requiring insurance and registration.
To help caregivers and child care providers, Nuestra Casa also offers classes in first aid and CPR. Rohde said it is important for those who speak Spanish to receive training in their own language.
She said health is another concern addressed by her agency. Because one in four Hispanics and another one in three Hispanic children has diabetes, her agency offers diabetes education classes. The diabetes educator is bilingual and is willing to educate both Spanish speaking and English speaking community members about the disease.
Rohde said the diabetes educator also meets with individuals to help monitor blood sugar and educate them on proper care of themselves.
Because those who emigrate to the U.S. from Mexico often do not trust banks, Rohde said her organization also offers classes on finance.
She asked, "Have you ever seen one of our farm workers pull out a wad of money?"
The reason for that is the fact that for many of their lives, Hispanics have used their pockets as their personal bank, and the finance education class encourages them to trust banks in the U.S. to prevent them from becoming victims. "It's not safe to carry all their money around with them," she stated.
Each of the classes is often attended by people who bring their children with them. Rohde said the parents learn skills in parenting through gentle encouragement from those teaching the classes.
A parent who has been bringing her two-year-old to class recently learned keeping the child quiet with a cookie was not the healthiest way to do so. Rohde said she explained to the parent that sugar can make the child hyperactive. As a result, the parent learned to provide the child with crackers.
Nuestra Casa also offers support classes for mothers and daughters and fathers and daughters. During the classes, the parents are provided with activities that encourage communication, such as creating a memory book. More recently, the fathers asked to have a class providing support for themselves.
Rohde told the Rotarians, "They didn't want to leave."
Through the services provided at Nuestra Casa, she believes individuals and families are being transformed.