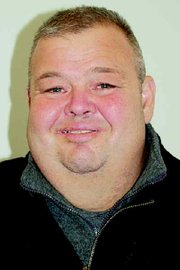 The Safeway store in Sunnyside will have a retirement party for longtime employee Frank Scheer next Saturday, Nov. 8, from 1 to 3 p.m.
Scheer has been with the store since 1991 as a courtesy clerk, and is familiar to many as a smiling greeter and in helping shoppers with their grocery carts.
"I did a little bit of everything," he laughed, "I was a jack of all trades, mopping, cleaning up."
Scheer's retirement is according "to doctor's orders," he said. "I had a heart attack and stroke during a stress test."
Always outgoing and friendly, Scheer said he will miss talking to customers. Besides the friends he made during 17 years at the store, Scheer said his favorite part of the job was raising money for different charities.
Scheer is for the time being staying with a family member and will eventually move to an assisted living center in Prosser.