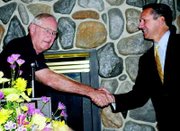 Just 129 votes from winning the governor's office in 2004, Republican Dino Rossi is back in the race this November for the state's top job.
This morning he brought his message of a new Olympia to Sunnyside, rallying a crowd of well over 100 people during the Daybreak Rotary Club's meeting.
Amidst applause and occasional laughter, Rossi compared his experience as a businessman with that of his rival, Gov. Christine Gregoire, whom he said has been in Olympia for 40 years. "She hasn't had to work in the private sector during her adult life," he said.
Rossi also touted his experience in disproving naysayers, tracing his path from a child who grew up in low-income projects to a commercial real estate millionaire by the time he was 30. In between he supported himself with jobs ranging from construction to waxing the floors of the Space Needle.
Rossi said in politics he has refuted naysayers, as well. Besides his well-known 2004 run for governor, in which he negated a 30-point deficit in the polls, Rossi was the only Republican to unseat a Democratic incumbent in the 1996 state races, earning a seat in the State Senate.
As a chair of the Ways and Means Committee, Rossi said he balanced a budget, despite a shortfall, without raising taxes.
He reiterated a no-tax pledge this morning, and quoted a newspaper article in which Gregoire was quoted as favoring an income tax.
Rossi railed against Gregoire's 33 percent spending increase that has left the state with a $2.7 billion deficit.
If elected governor, Rossi said he will call for a stronger tracking system for sex offenders-he said under Gregoire's tenure 1,300 sex offenders have been freed into communities as homeless, with no known address.
Further, Rossi said he would oppose early release for violent felons. That in contrast to the 3,100 violent felons he says have been released during the Gregoire administration.
Rossi also pointed to Gregoire's ad campaign that has criticized any and all things, including his daughter's dog. "If half the stuff (said about him) is true I wouldn't vote for myself," Rossi said in drawing laughter from the crowd.
Noting the governor has outspent him by $1 million this summer, Rossi said during that same time frame the polls have gone in his favor, with Gregoire slipping from a one percentage point lead to now trailing Rossi by a percentage point.
"If she spends a couple more million this might work out just fine," he smiled.
As for education, Rossi said as governor he would back legislation that focused on "what is best for children." He pointed to that in contrast to a $15 million education grant that he says the state lost because of disputes that "some teachers doing a good job might get paid more." The losers in that situation, he continued, were the children.
With more than 50,000 individual supporters averaging a donation of $88 each, Rossi's campaign has taken on a grassroots appeal. "It's like drinking from a firehose," he said of the overwhelming response he receives on the campaign trail.
If governor, Rossi said state agencies will be reined in and that efforts will be made to lessen the tax burden on businesses.
His goal if elected, he said, is for Washington state to be the "worst place in America to be a criminal and the best place to start a business."
Rossi closed by calling for supporters to spread his message. Noting the slim margin in the 2004 race, he said with a smile, "Help re-elect me this fall."
The message clicked with those in attendance. Some grabbed Rossi stickers and a senior citizen wrestled a huge Rossi yard sign in to the back of his car.
Rossi's platform connected with the young, too.
Dan Fiedler of Prosser was one of many who took a turn at shaking Rossi's hand and posing for a photo. "I just turned 18," he told Rossi, "and I'm going to vote for you."