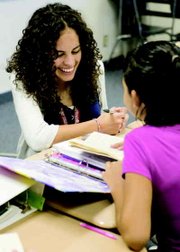 What's better than having a State champion runner on your cross country team?
Answer: a former State champion track star actually coaching your team.
That's the situation with 2004 Sunnyside High School graduate Isley Gonzalez, who is assisting Sunnyside High School cross country coach Robin Bryson with coaching duties this fall.
Gonzalez is still a Washington State University student and is in town for the semester doing her student teaching at Harrison Middle School. She is earning her degree in elementary education from WSU and plans to earn her Master's from the university as well.
At Harrison Middle School, Gonzalez is teaching reading, writing and history of the Pacific Northwest to seventh graders.
"It's good, I like it a lot," she said of teaching at Harrison Middle School. "I'm enjoying the seventh graders."
Gonzalez had a storied career at Sunnyside High School in the track and cross country programs. She won a State title in the 3200m in 2002 and 2004. Gonzalez also won a cross country State title in 2003.
All these accolades were enough to get her a track scholarship at WSU.
She said she struggled her first three years at WSU, noting it was hard to transition from high school life to one filled with studying, racing and starting life in college.
Her fourth year she moved into an apartment by herself, trained by herself and worked very hard.
She said the stress of living with teammates went away and she was able to relax. She then turned that into an eighth place finish at the Pac-10 Championships in October 2007. That high finish earned her a spot at West Regionals, where she finished 30th out of 300 women.
"I didn't have a very good race," she explained. "I just missed out on going to nationals."
When she goes back to WSU in the spring to start work on her Master's degree Gonzalez will be eligible for one more season of outdoor track.
Currently she holds the number five spot for WSU runners in the 5000m race. With only about 30 seconds separating her from the record, Isley said she is focused to try and break it next year.
She is six months away from her first competition and Gonzalez has been running eight to 12 miles a day to prepare herself for that task.
But for now she's content on helping the Sunnyside High School cross country team.
"It's definitely interesting to see the difference from when I was an athlete here to being a coach," she said. "I'm enjoying it."
She said it's fun to actually coach then have to run all the time. Gonzalez has gained more respect for her coaches as well now that she's learning what coaches do.
"Teaching all day and then going to coach for another three hours, I have great respect for teachers and coaches who do that," she added.
But it's something she can see herself doing full-time one day.
"My ultimate dream is to coach a division I cross country team," she said.