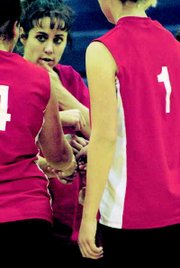 MABTON - The Bickleton Lady Pirates varsity squared off against the JV Lady Vikes last night in Mabton, claiming victory in all three volleyball games, 25-19, 25-20, 26-24.
"We played really well, but had spots where we played really bad, which kept them in the game," said Bickleton Coach Kim Clinton.
The Pirates were down 16-20 in the second game, but Morgan McBride took the serving stage, so to speak, and lobbied eight straight serves at the Vikings. Inspired, Katelynn Clinton dug one up from the back, "rocking the gym" as her coach put it, to score. Clinton racked up eight kills and two blocks for the night, while McBride had no service errors all night.
In only their second match of the season, the Lady Pirates improved their serving. "Our serve was a lot better last night. Against Lyle, we averaged four errors per game, last night we averaged three per game."
Clinton said the players are still struggling with getting into rotation. "We had a couple collides last night, which didn't happen against Lyle (this past Tuesday night)."
Bickleton eighth graders took to the court for the first time this season in the third game. They included Jaime Venema, Haley Goodnight and Amanda McBride.
Bickleton (0-0, 2-0) returns to action Thursday, Sept. 18, against Kahlotus.