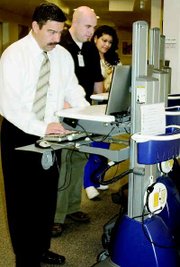 SPOKANE - Sunnyside Community Hospital is one of four recipients of Inland Northwest Health Services' technology awards.
According to a press release issued by INHS, selections were based upon strategies and actions using health information technology to improve quality, safety and efficiency of health care.
"Information technology has changed health care forever," said Sunnyside Community Hospital's Tom Lathen. "The hospital and clinics have made advancements in computer technology out of the necessity of keeping up with that change."
Lathen said if a computer goes down at the hospital, patient care doesn't suffer, but paperwork moves a lot slower.
"While the changes have been a challenge for those of us old enough to remember how it used to be, it is exciting and rewarding to know that we are as technically adept as larger hospitals in Seattle and elsewhere," he said.
The hospital's IT department has grown to a staff of six individuals in the past five years. They provide 24-7 remote desktop support to all computer users in the hospital.
Changes in technology over the years has included rebuilding the hospital website, creating a hospital intranet that allows for electronic storage and editing of hospital policies and procedures, electronic medical records and a wireless network.