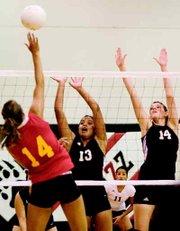 YAKIMA - Jacob Rogers and Jocelyn Yanez turned in the quickest times for Sunnyside at yesterday's Big 9 League cross-country meet, staged at Yakima's Franklin Park.
Rogers, a senior, sped to a clocking of 17:19.57 on the three-mile course to record an 11th place finish in the varsity boys race. A total of 49 runners representing five 4A schools, as well as 3A Sunnyside and Hanford, competed in the varsity competition.
In the three-mile varsity girls race, which drew 40 runners from the seven schools, the sophomore Yanez clocked a time of 21:44.22 for a 17th place finish.
The Sunnyside girls squad did not field a complete team at Tuesday's league competition, thus lost all six match-ups against Hanford, Eastmont, Eisenhower, Kamiakin, Walla Walla and host Davis.
Sunnyside's boys did have the full complement of seven varsity runners, but came up short in the team scoring against each of the six other schools.
Rogers, in placing 11th in the boys race, finished a minute and four seconds back of the winner...Bryan Simison of Eisenhower, who clocked a 16:15.86. Fellow Ike Cadet Ryan Chapman was a distant second yesterday, clocking a time of 16:38.05.
The second runner in for the Grizzly boys squad was senior Gracen Gonzalez. He toured Franklin Park in a time of 18:15.91, good for 28th place honors.
Also competing for the Sunnyside varsity were junior Patrick Watts, 41st in 18:59.09; junior Osbaldo Arroyo, 44th in 19:22.33; senior Jose Alberto Sanchez, 46th in 19:30.20; junior Sean Johnson, 47th in 19:56.43; and junior Kennedy Sarmiento, 49th in 20:14.66.
In Tuesday's varsity girls race, Yanez's clocking of 21:44.22 was roughly 24 seconds shy of earning the underclassman a "Top 10" finish.
The girls winner proved to be highly regarded Sandra Martinez of the Davis Pirates, who finished in 19:12.99. The senior easily bested the runner-up, Erin Hegarty of Hanford, who clocked a second place time of 19:52.30.
The one other Sunnyside runner competing in the varsity girls race was junior Marlene Manzo, who placed 30th from the 40-girl field in a time of 23:11.03.
The Sept. 16 league competition also featured JV boys and girls races.
In the junior varsity boys race, freshman Nathan Gonzalez turned in the fastest time for Sunnyside, hitting the finish line in 19:53.91. That was good for 23rd place honors from the 114-boy field. The JV boys race winner was freshman Austin Richards of Kamiakin, who clocked a time of 17:04.06.
In the JV girls race, freshman Jenna Berlin of Hanford topped the 24-girl field in a time of 23:43.15. Sunnyside's only runner in the junior varsity competition was sophomore Daisy Rodriguez, who placed 15th in a time of 28:59.08.
The Sunnyside Grizzly cross-country team isn't scheduled to compete again until Saturday, Sept. 27, when the Wenatchee Invite is staged at Walla Walla Point Park.