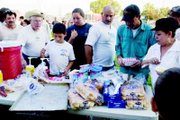 The residents of South 15th Street in Sunnyside are fed up with continued gang violence in their neighborhood.
That anger came to a head Sept. 5 when a Sunnyside teenager was shot dead after shooting at a group of people in front of a house at 915 S. 15th Street.
"It's scary," Roberta Mirelez said. "There have been numerous drive-bys at that house this year. It's scary to hear gun shots in your neighborhood."
The Sept. 5 incident of gunfire hit several houses besides killing 16-year-old Juan Ramos, including two day care businesses.
Bianca Lopez owns a licensed daycare on South 15th Street and her house was one of the ones hit by bullets on Sept. 5.
"I'm scared, this is the first time it's happened during the day," she said.
So far her business hasn't been affected and she let all her clients know what's happening.
"We would like to have those people (who reside at 915 S. 15th Street) move out of their house," she added.
She was not alone as between 150 to 200 people showed up at Don Hughes Park on South 15th Street last night to organize a block watch and sign a petition to remove the residents of 915 S. 15th Street.
Encouraged by Sunnyside police and city officials, the residents were encouraged to take back their street.
"We're here to support you in this endeavor," Sunnyside Mayor Paul Garcia said. "This does take courage and we encourage you to stay courageous through thick and thin."
He told those attending to keep up their efforts, even if things don't appear to be changing.
"Sometimes gangs can be here because no one cares," Sunnyside City Manager Eric Swansen said. "That has to change. You can't put up with it anymore. Help us help you."
The residents were told what to do when gang violence happens in their neighborhoods. How to get the vehicle description, its license plate, the time the incident took place and other things.
"It's critical to let the police know what's going on," Sunnyside City Councilman Bruce Epps said. "All of you people coming here today is a start."
Carol Stone, another city council member, told the crowd to stand up and retake their neighborhood.
And that's what last night's meeting was all about. Residents who showed up filled out cards listing where they live and who lives with them. Police will put the information together and work with a neighborhood committee to form a block watch.
Gloria Acosta, who lives at 915 S. 15th Street, told the Daily Sun News it's not fair to blame her for the problems.
"I live there in my house," she said. "They say it's my fault or my sons' fault. I know it's not right, the shootings, but I feel I'm not to blame."
Acosta said she lives in the house with her husband, her granddaughter and her granddaughter's husband. She claims she doesn't know if her granddaughter's husband is a gang member.
She admitted he has friends over to her house that she doesn't know but doesn't know if they are gang members either.
"They're not going to tell me, are they," she asked.
Acosta said she has told her granddaughter's husband's friends not to come around but sometimes they listen, and sometimes they don't'.
"What can I do?" she asked.
When asked by the Daily Sun News if she has ever called the police to get them to leave, she said she hasn't.
Contrary to neighbor reports that the house has been shot at several times this year, Acosta claims this is the first time and claims she doesn't know why people are targeting her house.
She does admit that someone tried to burn her house down earlier this year but again claims she had no idea why. She claims the police will do nothing and blame her for the problems.
But Ray Mirelez, who lives on the street, says the house at 915 S. 15th Street usually has gang members in front of it and they harass people walking by.
Sunnyside Deputy Police Chief Phil Schenck said there is a possibility that neighbors can come together and sue Acosta for bringing down the value of property on South 15th Street because of gang activity at the house. But that wasn't the reason for the meeting.
"The biggest reason we're here is we want a block watch," he said. "We can't impose it, they have to want it."
And it seems the residents do.
Susana Lopez, a former resident of the street and a committee member, said she thinks the message got across last night. She said she heard the anger in people's voices.
"Most houses in this neighborhood are family oriented," she said. "It used to be very peaceful. This house is to blame."
Roberta Mirelez agrees.
"It could be one of our kids next time," she added. "They (gang members) wouldn't hesitate."