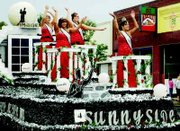 This past Saturday's annual Sunshine Days Parade received plenty of liquid sunshine, but that didn't keep dedicated parade participants and attendees away from downtown Sunnyside.
The participants were judged in the staging area at Sunnyside High School prior to traversing East Edison Avenue, where the streets were lined with those wanting to see the floats, bands, cars, machinery and faces of those involved in the parade.
Winning trophies for their entries were the Grandview community float for communities of 3,500 or more, the Grandview High School Band, the Zillah royalty float for communities of 3,500 or less, the Marysville Strawberry Float in the commercial division, Sunnyside United Methodist Pre-School in the organization division, parade horse division winner Brynn Morgan, the Lower Valley VFW in the marching unit adult category, Cristobal Perez Carrasco for horse clubs, the antique fire truck owned by Bob Johnson and carrying Miss Sunnyside candidate Jennifer Crane for the antique vehicle division, Low Luxury Car Club for custom cars, and the Yakivegas PT Cruisers for the car club category.