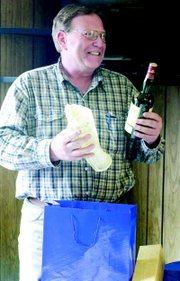 The year 1976 was full of many events that had a lasting effect.
The Seattle Seahawks played their first game. The Band held its farewell concert in San Francisco. The Eagles released the song Hotel California. Punk music was just taking off. The Apple Computer Company first formed and Steve Schut went to work for the city of Sunnyside.
Thirty-two years and nine months later Schut said good-bye to friends and co-workers alike at a retirement celebration held for him yesterday, Tuesday.
Schut, who was the city's water department supervisor until yesterday, said he has grand plans for his retirement. He plans on spending a month on the island of Hawaii and hopes to travel to Germany in the fall, just in time for Oktoberfest.
"As long as there is money in the bank and the economy hasn't failed, I'm going for it," he said of his planned travels.
Schut has seen several changes since he started work for the city in 1976. One of the biggest is the total computerization of the water meters. In the past, he said, it would take several employees about a week to go around and read all of the meters in Sunnyside. Now, with everything radio controlled, one person can read every water meter in the city in an eight-hour period.
When Schut, who was born and raised in Sunnyside, first went to work for the city he said there were approximately 5,000 people living here. Now there are nearly 15,000.
"The city has grown pretty rapidly, especially in the last 15 years," he said.
All those people need water and since Schut has been with the city he has seen four new water resources added, something he said will be more and more difficult over time.
Another big change Schut said has come about is the amount of paperwork that is needed to be filled out. This ensures the city is following state and federal regulations properly.
He said he will miss all the friendships he's made over the years.
"When you see all the people come out like this, it means a lot," he said of his co-workers who had gathered for the retirement celebration.
Sunnyside Public Works Director Jim Bridges said Schut has been an outstanding employee to work with.
"You could always count on him to pick up the phone and get things done," he said of Schut. "He always saw the benefit of being more efficient in our operations."
Schut addressed his fellow co-workers after opening gifts given to him.
"You've been like a big family," he said. "I really appreciate it. I want to thank everyone. This means a lot."