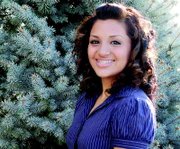 Alexus Alvarez, 15, is hoping to continue her family's royal tradition by seeking the Sunnyside Miss Cinco de Mayo crown.
Her mother, Dalia Sandoval, was a member of the Miss Cinco de Mayo court back in the 90s, and Alvarez herself was a Miss Sunnyside princess when she was just four years old.
It's not all about a quest for crowns for the SHS sophomore, though, as her interests range from volleyball, Pep Club and softball to participating in the Relay for Life and the ALS Walk.
Alvarez says the Relay for Life is important to her because cancer runs in her family.
She's involved in all these activities while carrying a 3.6 grade point average at SHS.
Alvarez says the ability to keep everything in perspective comes from her parents, Sandoval and father Armando Alvarez.
"My mom always taught me to push myself 100 percent and always try my best," she says.
Looking beyond high school, Alvarez wants to attend the UW to become a pediatrician. "I really like little kids," she said with a smile.
Alvarez will join seven other contestants in trying out for the Miss Cinco de Mayo court during a pageant on Friday, April 17, at 7 p.m. in the SHS auditorium.
She says her performance for the talent portion of the evening's festivities will be hip hop dancing set to music.
Whatever the outcome of the pageant later this month, Alvarez says the candidate process has been good for her.
"I've learned to be myself and have fun with the girls," she says. "I have some new friends."
If she successfully continues her family's royal tradition as Miss Cinco de Mayo, Alvarez said her community service activity will be to "get more people involved in organ donation."
Of organ donation she added, "A lot of people don't know they can help others and how it can make a big difference in someone's life."