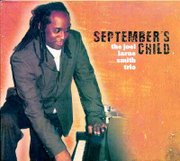 Calling it "Afro-Cuban" jazz, Joel Larue Smith and his trio have recently released the new CD, "September's Child."
The CD title on the 11-song compilation is a nod to Smith's birth month. Seven of the songs on the CD are his compositions, including what is one of the strongest songs, "Miramar," which has a nice playful hook. It seems to be the most polished piece on the CD.
The CD opens with "Barandanga," which features a piano solo by Smith that sounds like rainfall, then smoothly transitions into a jazz-fueled samba.
Smith's piano artistry - Tito Puente and Tony Bennett are among the legends he's accompanied - is on display in El Mensajero (The Message). However, Smith the composer struggles to reign in his three-piece band and the result is a song that meanders, feels lost.
"Narrow Escape" is a fine song, but can't escape the distraction of maracas.
Bassist Fernando Huergo makes a couple of the songs more likeable. "Que Preciousa" (How Precious, a composition Smith dedicates to his daughters) is saved by Huergo's bass work. "Obsession" benefits from a Huergo bass line that creates nice mood music.
"Common Ground" shows the danger, though, of relying on a stripped down three-piece band. It sounds derivative, too much like some of the other piano-driven pieces on the CD.
To his credit, Smith ends the CD like he starts it, with a satisfying tune. The last piece is the title song "September's Child," in which all three members of the trio, including drummer Renato Malavasi, shine. It's toe tapping music, and a bit breezy, too.
Again, Smith is without a doubt a talented pianist, a pleasure for the ears.
His compositions have pop at times, latin-fueled jazz at other times.
Smith has his heart in the right place, but his latest CD is not consistent enough to recommend as a run-out-and-buy piece.