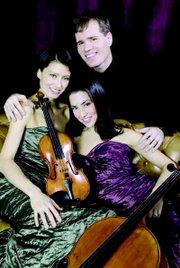 From a solo pianist to a blues trio, the 2009-10 Lower Valley Community Concert Series will have something for everyone.
The series kicks off on Thursday, Oct. 1, 2009, at 7:30 p.m. with Project, a jazz crossover trio from New York.
The group features "beatbox" flutist Greg Pattillo, a Youtube sensation whose performance has been viewed more than 12 million times on the social networking website. Project also features Eric Stephenson, a cellist with classical, jazz and rock influences.
Rounding out the trio is Dallas native Peter Seymour, a bassist who has appeared with Wynton Marsalis and Bobby McFerrin.
Next up in the concert series is virtuoso pianist Rudolf Budginas (pronounced bud-guinness) on Thursday, Dec. 3, 2009, at 7:30 p.m.
Budginas was born into a family of musicians in Lithuania. He began his studies at the age of four and made his debut at the age of nine with the Lithuanian National Symphony. Subsequently, he trained at the prestigious Moscow Conservatory. Thereafter, he rose to international prominence performing solo concerts throughout the world.
He is known for interacting with the audience by presenting information and humorous asides about the program.
"I like to relax the atmosphere of the concert," says Budginas. "Because, you know, the concert is a very formal thing. I like people in general. I like to talk to them. And when you have friendly atmosphere, when you explain what they're going to hear, it's much better, it's much easier."
Casey MacGill's Blue 4 Trio takes the Sunnyside High School auditorium stage on Tuesday, March 16, 2010, at 7:30 p.m.
Some call it the Nat "King" Cole Trio meets the Mills Brothers, while others call it Fats Waller meets Fats Domino.
However described, Casey MacGill's Blue 4 Trio sweeps the audience back through time. Boogie-woogie pianist MacGill leads bassist Matt Weiner and percussionist Mike Daugherty through soulful renditions of pre-World War II swing classics, complete with impeccable three-part vocal harmonies (and even a little ukulele).
The members of the trio have been featured in Broadway's smash musical Swing, the Edinburgh Jazz Festival and legendary Ronnie Scott's Jazz Club in London.
Rounding out the 2009-10 series will be Intersection, a string trio of violin, cello and piano, on Thursday, April 15, 2010, at 7:30 p.m.
Intersection's program has been described as anything but typical -- a Hungarian thread in Brahms may spin into Gypsy tunes, Dvorak into Slavic dance forms, Ravel into ethereal French renderings. In addition, the New York-based trio of violinist Laura Frautschi, cellist Kristina Reiko Cooper and pianist John Novacek presents a repertoire of American favorites.
Intersection formed in 1998 and their recordings have been best-sellers in Asia and have topped the classical and crossover charts. The trio has also appeared on CNN International and even cameos on TV commercials.
All performances will be in the Sunnyside High School auditorium.
The concert series is currently offering an early bird special that offers a season ticket for all four performances at $45 per person or $95 for a family of four. The special runs through May 31. After that date, prices will go to $50 per person and $105 for the family rate.
The student rate is $15 for the entire season.
The membership drive for the 2009-2010 series wraps up on June 30.
For more information or to order a series membership for 2009-10, contact Jean Corliss at 882-1668, Elizabeth Donaldson at 509-786-3707 or Barbara Skinner at 839-5222. Information is also available at lowervalleyconcerts.embarqspace.com.