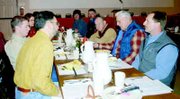 PROSSER - Lower Yakima Valley grape growers gathered for a round table discussion this past Thursday morning at this month's Grape Fieldman's breakfast in Prosser.
The growers and scientists from Washington State University Prosser Extension Office shared current developments in the industry.
Researcher Gwen Hoheisel opened up discussions asking if any of the local growers have been experiencing bud break. Although none have, Joan Johnson said she has noticed vine bleed and expects bud swell in a few weeks.
Grower Craig Bardwell said his Concord grapes are "a little behind" this year and he typically experiences bud break around April 6. He, however, doesn't expect to see the problem arise this growing season.
If the weather creates agreeable conditions for his grapes, Bardwell expects to catch up to normal growing patterns in May. He said, "Last year we had a late bloom and I predict conditions may be similar this year."
Many of the growers agreed the season has not been unfavorable thus far and said they have not experienced any unforeseeable problems.
Hoheisel shared what has been happening with programs at the extension office. One program, a field day to assist in educating growers in pruning methods, was more successful than in years past.
"I was ready to give up," she said, stating the typical turnout for the event has been low in recent years. This year, however, nearly 60 interested persons attended the event.
She and her fellow researchers have also been busy working to secure specialty crop research initiative grants.
"There is a big push," Hoheisel said, explaining she has been working toward the goal of securing grant funding to research application technology.
Fellow researcher Joan Davenport secured funding last year for a project she is working on. That project involves nutrient deficiencies and is ongoing.
The goal of the project is to produce a pictorial guide, showing deficiencies and where they exhibit themselves on a plant's anatomy.
Because the researchers are familiar with today's agricultural community, Don Waddle of Bleyhl's asked if they had any knowledge of a machine purchased by one grower he comes in contact with. He said the machine is being shipped from Chile and cost the grower approximately $25,000.
Waddle said the machine has potential to help thicken skins and eliminate both mildew and disease.
This interested the researchers, who had not heard about the new technology. They asked the growers to pass on further information as it becomes available to them.
Also shared was information from Evan Carlisle of Valent U.S.A., a chemical company that supplies pesticides and herbicides to farmers.
With his availability, those at the meeting were interested in learning about an herbicide known as Chateau. Carlisle told them it is inadvisable that the product be sprayed near pear crops because he has seen substantial losses in crops that have been exposed to the herbicide.
Because it is good for killing puncture vines, the product is becoming well-known. Growers were told the best way to prevent crops from being affected negatively is with the application of irrigation following the application of the herbicide.
Overall, those in attendance at Thursday's grape fieldman's breakfast feel the season is beginning on a positive note with concerns being minimal.