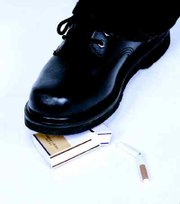 Turns out it wasn't a nasty little April Fool's Day joke played on smokers when they woke up that day to a new federal tobacco tax. The new tax hike totaled 62¢, which brings the current federal tax on each pack of cigarettes sold in the United States to $1.01.
With Washington state's tax on cigarettes at $2.02.5, the total taxes smoking Washingtonians now pay for each pack is a whopping $3.03.5.
"This means a premium brand pack of cigarettes will be between $6 and $7," said Tim Church, communications director for the Washington State Department of Health.
Church said the increase in the federal tax will fund the expansion of the State Children's Health Insurance Program, which covers low-income children's health care costs. Washington state is expected to receive about $94 million more annually because of the price hike, which will enable the state to expand the number of families eligible for health care.
Critics of the tax hike point out that it is wrong for the federal government to count on cigarette tax dollars to fund health care when any tax increase usually gets a portion of people to quit smoking, which would result in less tax dollars coming in.
Church counters, saying that declining tax dollars from fewer cigarette sales would be a welcome sight if it meant less people were smoking.
"The long-term costs are more," he said. "There would be less money going out to pay for cancer treatments and other smoking-related diseases."
Church said when the price of cigarettes increases it typically results in fewer people smoking. He mentioned the Tobacco Quit Line, 1-800-QUIT-NOW, is a crucial part of the state's efforts to reduce tobacco use. Smokers call to speak with trained quit coaches who are often former smokers themselves. These coaches help callers recognize their smoking triggers and develop a personal plan to quit. Along with coaching, people who are ready to quit can also receive a free supply of nicotine patches or gum through the quit line.
"Adult smoking in the state has dropped by 25 percent since the quit line was created in 2000," Church said.
He added that 16.5 percent of adults in Washington smoke, which ranks the state sixth for the lowest smoking rate in the country.
There is no word on whether the state tax on cigarettes will increase. Church said there has been talk among some groups to push for an increase but nothing has made it through the state legislature as of yet.