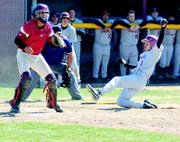 GRANDVIEW - The Grandview Greyhounds snapped a five-game losing streak this past Saturday, scoring 29 runs over two games in a doubleheader against the Toppenish High School baseball team.
"We played well," said Grandview Coach Matt McKinstry of his club's 18-5 and 11-1 victories.
Some might call it great.
After falling behind 3-0 in the first inning of game one, the Wildcats dinked and dunked their way to five runs in the top of the second off Grandview starting pitcher Trent Mottice. The Greyhound hurler threw a smart game, allowing only eight hits in five innings. Four of those eight hits were in the infield and a couple just made it into the outfield.
Three hits in that inning went off the glove of Mottice, which affected the momentum of the ball just enough where he couldn't make the play.
Down 5-3 to start the top of the third, the Greyhounds calmly led off with three straight singles. The Wildcat pitcher then gave the Greyhounds a free pass before Grandview returned to cranking out singles.
Trey Greene, JoJo Garza and Josue Oros each added an RBI to their stats and Josh Bertsch drove in two runs in the inning as Grandview went ahead 11-5.
With Mottice keeping the Wildcats honest at the plate, the Greyhounds added seven more runs in the fourth inning to take an 18-5 lead. The game ended in five innings.
Bertsch went 3-for-3 in the game with a home run, a double and five RBIs. Mottice was 3-for-4 with two RBIs. Ryan Moore was 2-for-4 with three RBIs. Garza went 2-for-4 with two RBIs and teammates K.C. Flores and Greene both went 2-for-4 with one RBI each.
Game two of the doubleheader also only went five innings. Grandview used three pitchers to get the job done, starting with Flores. He went three innings, striking out two while allowing one base on balls.
After going ahead 1-0 in the first inning, the Greyhounds had another big second inning, scoring seven runs to hold a commanding lead at 8-0.
Greene led off the second inning with a single, then Ryan Moore moved to first on a base on balls. That's when Bertsch singled, which drove in two runs. After two errors by the Wildcats and a single, Mottice went up and hit a double, which drove in two more runs.
In the third inning Josue Oros hit a deep sacrifice fly to center field, which allowed Grandview runners on second and third to come home. Grandview scored three runs in the inning to go up 11-0. Toppenish scored a run in the fourth to account for the final 11-1 score.
Jacob Rinehart and Anthony Perez combined to pitch the last two innings for Grandview. Rinehart fanned three Toppenish batters and walked two. Perez gave up two bases on balls as well.
Bertsch again had another great game, going 2-for-2 with two RBIs and a triple. Garza was 2-for-3 with a double. Mottice went 2-for-3 with a double and two RBIs and Greene went 2-for-3.
McKinstry said the difference in Saturday's games, compared to Grandview's five previous losses, was that his team was able to make the key plays when they needed to.
"We eliminated the big inning," he said.
McKinstry had praise for his pitchers, adding the Mottice did a good job on the mound and at the plate. He also pointed out the play of Moore, who has caught every inning the Greyhounds have played this season.
"His bat is really coming around," McKinstry said.
Grandview (2-5, 3-5) will host Wapato this Tuesday, April 7, at 4 p.m.