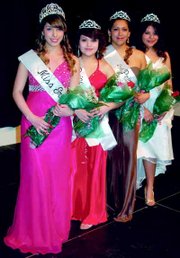 GRANGER - "Dance the Night Away" was the theme of the Miss Granger Pageant this past Friday, and the night belonged to Jessica Torres, who was selected from among four candidates to be Miss Granger for 2009-10.
The new court also includes First Princess Kayla Resendez, Second Princess Veronica Arceo and Third Princess Clara Bustamante.
The evening also included an opportunity for the outgoing court to express their teary farewells. The outgoing Miss Granger, Adree Cantu, also performed a song for the crowd assembled in the Granger Middle School gym.
During the talent portion of the competition, Torres did a skit to the song "You're the one that I want," while Resendez performed a dance called "Disturbia." Other performances included a poetry reading by Bustamante and a Mexican folkloric dance by Arceo.
In impromptu interview comments, Bustamante talked about after school programs, while Arceo and Resendez discussed being a role model and addressing gang issues, respectively. Torres said she would represent Granger with a positive attitude.
All of that set the stage for the court selection announcement, as Resendez and Torres held hands awaiting the final announcement as to who would wear the Miss Granger crown.
The well-received program ultimately came down to a salute to the town of Granger.
The civic salute was highlighted by not only the new Miss Granger's commitment to represent her town with a positive attitude, but by some of the final comments by Cantu as the outgoing Miss Granger.
The Miss Granger experience, Cantu said, is about expressing "...our love for this town we call home, and that town is Granger."