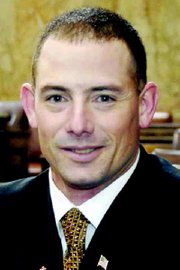 OLYMPIA - From the moment he arrived at the state capital last Tuesday morning, the newest member of the state House of Representatives barely had time to grab a fast cup of coffee as he adapted to the pace and demands of a legislative session moving into high gear, and in its final weeks.
"It's been intense, but invigorating, and I'm enjoying the challenge," said Rep. David Taylor, as he took his place as a member of the 15th District's legislative team. "It's definitely a case of having to hit the ground running."
The 37-year-old Moxee agriculture consultant and rancher was appointed to the House on March 30 by the district's county commissioners. Taylor was chosen from a final field of three to succeed former Rep. Dan Newhouse, who resigned in February to become director of the state Department of Agriculture.
Taylor was promptly administered the oath of office by Klickitat County Superior Court Judge E. Thompson Reynolds. After hasty preparations, Taylor headed to Olympia the next morning, arriving on Day 79 of the scheduled 105-day legislative session.
During a flurry of fast-paced meetings, Taylor conferred with his new seatmate, Granger Rep. Bruce Chandler, 15th District Sen. Jim Honeyford, and the House Republican Caucus leadership group. He wrapped up his first day on the job with a telephone interview on KIT radio late that afternoon.
"Needless to say, there wasn't a lot of time to adjust to my new responsibilities as a legislator, but with the direction and counsel of Representative Chandler and Senator Honeyford, I was able to start work immediately," Taylor said. "This is a tremendous personal honor, and I am grateful for the opportunity to serve our district."
After conferring with caucus leaders, Taylor was assigned to the House Ecology and Parks Committee and the House State Government and Tribal Affairs Committee. He was also named to the House Technology, Energy and Communications Committee.
He took his first floor vote Wednesday when the House passed a resolution honoring and supporting individuals with autism. A full floor calendar is on tap for the newly appointed legislator, as the Legislature heads into the final weeks of the 2009 session, which is scheduled to adjourn April 26.
"There's a lot to learn, and it will be a fast-track process for me," Taylor said. "The one thing I can promise is that I'll give everything I have to earn the trust and confidence of my constituents. The 15th District team may have a new look, but I am committed to ensuring that there is no change in the level of principled representation the people of our district expect and rely on."
More like this story