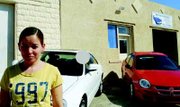 GRANGER - After working as a cook for 17 years in California, Robert Gonzalez was looking to finally open his own business.
His longtime friend and former schoolmate, Jose Aguilar, suggested Gonzalez and his wife, Hermilinda, move to the Lower Yakima Valley.
"He (Aguilar) taught me the business of selling cars," shared Gonzalez, stating his friend encouraged him to pursue his dreams.
He said of opening his own business he had to find a location. Looking at the communities in the Lower Valley, he noted Granger's need for more commerce and felt his dealership might fill a void in the community.
Gonzalez found a piece of property with an attached garage located on East A Street and purchased it. He said the adjoining lot, which lies vacant, provides him with room to expand once he becomes successful.
He wanted to start small, selling vehicles that are affordable. "I offer no interest financing," said Gonzalez.
He and his wife opened their business March 17 and have already sold a couple of cars. "That is good news and makes me feel good," he stated.
We Finance Auto Sales is located at 108 East A St., across from Granger's Lions Club, and Gonzalez has hopes that potential customers will take advantage of his financing opportunities.