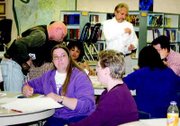 MABTON - In an effort to gain community input, Mabton School Board officials held the first of two meetings last night, Monday, to share budget cut ideas for the next school year.
School district officials presented a large two-sheet spreadsheet that explained the areas that might possibly be hit, what action might be taken, explained the savings and asked whether or not community members agreed with the proposed cuts. It also left room for suggested budget priorities.
According to Mabton Superintendent Sandra Pasiero-Davis, the need for budget cuts primarily originates in the fact that the state of Washington has a $9 billion shortfall in its budget and cuts in education are proposed.
But that's not the only contributing factor. A Gates Foundation grant comes to an end this year in Mabton, which amounts to $95,000 for 2008-09, as does a state grant to the elementary school, which this year amounted to $35,000.
Originally, Pasiero-Davis said, $900,000 in cuts was anticipated. But she said the Mabton School District now appears to be included in the federal stimulus package, bringing the amount necessary to cut between $200,000 and $400,000.
Pasiero-Davis said school board officials have been working since January to come up with ideas as to how to save money.
Among the proposed cuts is eliminating C-Squad sports.
"It's painful," said Pasiero-Davis. "(But) I propose we cut C-Squad sports because we have a very strong AAU to support our kids."
Should that become a reality, the district expects to save $12,080.
That's not the only proposed extra-curricular cut. Other ideas being bandied about include eliminating extra coaches beyond the established minimum for all sports, eliminating baseball at the middle and high school levels, eliminating middle school advisors and restricting high school supervisors to one per grade level. This would amount to a savings of close to $47,000.
The school district is also considering creating a sliding scale fee to charge for use of its facilities, something that's not in place now but that would cover costs and maintenance.
Also proposed is increasing the cost to students who take driver's ed from $100 per session to $200 per session. Mabton already loses money on the driver's education program, but this would decrease the losses. Pasiero-Davis said the cost to the district for driver's education is roughly $300 per student.
The school district is also considering forgoing the hiring of substitutes for maintenance staff and principals.
Also proposed last night was eliminating the communications coordinator position for the district, which is expected to save $18,500.
In terms of classroom instruction support staff, one proposal is to not replace the high school librarian, who plans to retire, and instead utilize an existing para-educator.
In terms of instruction, one proposal is to not fill a high school math teacher position being vacated by a retiring teacher. Pasiero-Davis said this could increase class size by two students on average. The district also proposes not filling a P.E./history teacher position vacated by a retire/rehire teacher. Pasiero-Davis said that in terms of history, if it came right down to it, the district could offer just one period a day of computer history classes, if necessary.
Few parents and community members were on hand last night to review the proposed budget cuts. School board officials organized the event so that community members could sit down at individual tables with various school staff and school board members and ask questions. That is expected to be the same set-up at the second meeting to discuss proposed budget cuts, slated for Saturday, April 18, from 10 a.m. to noon at the Mabton High School Library. Pasiero-Davis said that suggestions received from last night's meeting will likely be incorporated into the materials prior to the Saturday meeting.
Teresa St. George, a para-educator at the elementary school, breathed a sigh of relief when she reviewed the information provided by district officials.
"I expected to come and see cuts because I listen to the news and I hear all the schools are going through the same crunch we are," St. George said.
She said she was very pleased with the invitation to community members to be a part of the solution, saying that it's a good approach, letting community members know what's on the line.
Parent Michael Zavala was a little more disappointed. He wanted time to express himself to the board. He said he's also hoping the April 18 meeting will be more clear. Zavala was unhappy that there didn't appear to be a designated leader at any of the tables.