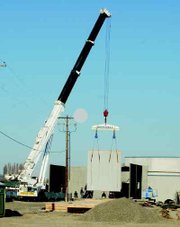 Whether it's the advent of spring and another building season, or perhaps a light at the end of the recession tunnel, building starts in Sunnyside were on a definite uptick during the month of March.
According to figures released by the city of Sunnyside, permits were issued for five new home starts in March, with a combined valuation of just over $900,000.
Three of the new homes, each valued at $160,000, are located in the Cottages at Quail Cove development on Cabot Lane. A fourth new home valued at $144,000 got the okay on North Avenue.
March's largest new home start, according to city records, is one for John Flodin in the 3500 block of Sheller Road, a nearly 3,000 square-foot home valued at $280,000.
Altogether, the five new homes resulted in nearly $10,000 in permit fees paid to the city of Sunnyside.
There is also a continued building boom for business and industry, as for the second consecutive month LTI, Inc. on Midvale Road gained permits to construct a new commercial building.
The new LTI building city officials approved last month is a 3,365 square-foot office building with a valuation of just under $360,000. City coffers netted just over $4,000 in fees for the project.
By far the largest project permitted last month is a 50,000 square-foot freezer building for Valley Processing on Loretta Street. The building has a valuation of nearly $1.8 million and generated almost $14,000 in permit fees.
Also in March, city officials gave the thumbs up for four re-roofing projects with a combined valuation of just over $45,000.
Total valuation for all projects permitted in March was $3.1 million, resulting in $31,000 in permit fees paid to the city of Sunnyside.
The city issued a total of 28 building permits in March and conducted 283 building inspections.
In addition, the city issued 12 permits each related to mechanical and plumbing work. Sunnyside officials also conducted 89 inspections related to plumbing work and 42 inspections for mechanical work.