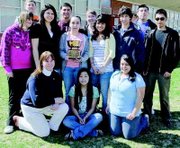 What is the water quality like in the Sunnyside area? What drink is the worst for a person's teeth? What's the best way to get rid of those pesky pimples?
All these questions and more were answered this past Friday and Saturday at the Washington State Science and Engineering Fair held in Bremerton.
Several students from Sunnyside High School and two students from Harrison Middle School competed at the fair, earning plenty of accolades for themselves.
Joyce Stark, a biology teacher at Sunnyside High School, said most of the high school students that competed at the science fair are in honors biology, but some of the students came from the school's chemistry and AP environmental classes.
"We were real excited to take two from the middle school also," she said.
The 12 high school students did so well that at the end of the fair they were awarded the traveling trophy for having the best all-around projects from grades 9-12. Sunnyside High School students last won this prestigious award in 2006.
"They were pleasantly surprised," Stark said of this year's SHS competitors.
All told, three Sunnyside High School students earned first place honors for their projects. They were Noemi Correa, Christine Kim and Ryan Rice. Each first place student has been offered a $60,000 scholarship to Ohio Wesylan University.
Correa's project dealt with water quality assessments of fresh water ponds in the Yakima Valley. The senior student grew up next to a pond and became interested in the quality of water from her AP environmental science class.
"I wanted to study something that affected the Yakima Valley," Correa said.
She said she found that the water quality in the Yakima Valley is fair.
"It's not the best, but it's not the worst," she added.
Kim studied the pharmacodynamics of antihistamines on arthropods. These are six-legged organisms related to insects.
Kim picked the project because she was studying arthropods in biology and is interested in the medical field. She said she was surprised she placed first for her project, adding that this is the first year she went to the science fair.
Rice said his project dealt with blocking wireless Wi-Fi signals. He picked this subject to do because he said he has always been interested in computers. Metal, he said, is the main conductor and does the best job of reflecting the signal.
He too was surprised he won.
"It was a tough competition," Rice added.
Earning second place honors for their projects were Eva Alvarado and Eddie Correa. Anthony Aguilar, Melissa Ehart, Baylie Yates and Christopher Bestebreur each took third place for their projects. Joanna Cruz also finished third but was given the American Society of Material Science medallion for her project dealing with how fertilizers affect galvanized and non-galvanized nails.
Kennedy Sarmiento received an honorable mention.
Tragen Frank, one of the two middle school students from Sunnyside who participated in the science fair, was awarded first place honors in the middle school competition. He also received a $100 award from the Washington Oral Health Foundation.
Frank's project asked the question, what drink causes the greatest loss of enamel on a person's teeth. He said he picked this particular project because he just got braces on his teeth.
He said Gatorade is the worst drink for a person's teeth due to all the sugars and acids. So far he has no plans on how he's going to spend the $100.
Tara Van Corbach, the other middle school student who competed at the state science fair, placed second place for her project dealing with what is the best acne medication.
"I thought it would be a cool project," she said.
She said she found that the anti-acne cream Proactive is the best.