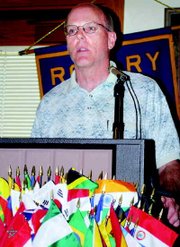 Sunnyside Valley Irrigation District has been in the process of improving its infrastructure to improve both water quality and conservation efforts in the Lower Yakima Valley.
That's according to engineer Don Shramm, who Monday told Sunnyside's Noon Rotary Club members the Sunnyside Canal Improvement project is being completed in two phases.
The first phase involves three PVC lined re-regulation reservoirs, which it is estimated will save 37,000 acre feet of water once the project is complete. One reservoir, added to the canal system last year, holds 500 acre feet of water. It is located near Whitstran. Two reservoirs, including that one, are currently on the system, and another is slated to be built north of Sunnyside in the near future.
Schramm said the Sunnyside Dam was recently rebuilt. The old dam contained wood flashboards that had to be removed manually to regulate water flow. The newly constructed dam is built with heavy "leafs" that can be adjusted automatically.
Automation is all controlled via computer by a watermaster, according to Schramm. The watermaster utilizes a program called supervisory control and data access to regulate the flow of water throughout the Sunnyside Valley Irrigation District's canal system.
"Historically, ditch riders called in reports," said Schramm, stating the need for personnel to monitor the system in such a way is no longer necessary. The computerized system is also more reliable in that it can be monitored remotely and nighttime monitoring is automatic, eliminating many concerns.
With the second phase of the Sunnyside Canal Improvement project, new weir boxes containing water flow meters are set to be installed throughout the district. These weir boxes should conserve the same amount of water as the first phase improvements.
Because water quality is important, Schramm also shared improvements in that area are working. He showed photographs depicting the Sulfur Creek wasteway in 1997 and 2000. In 1997, it was evident the water flowing into the Yakima River was not clean, whereas the improvements made a drastic difference by 2000. The water was much cleaner in appearance.
Schramm said one improvement made to the Sulfur Creek wasteway was a new system designed to prevent fish from spawning in the wasteway. The barrier was developed to return fish to the river.
Also shared with Rotarians was the water supply forecast. Shramm said the water supply for 2009 is looking good. He said storage is at 120 percent of average, and the snowpack is at 95 percent. "The last two weeks brought it up from 70 percent," he noted, stating this past winter has had conditions that have concerned those watching the water supply. But, all concerns have been alleviated with recent conditions in the Cascade Mountains.