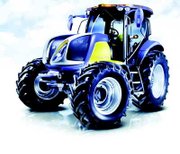 NEW HOLLAND, PA. - Not only are cars getting the eco-friendly treatment, but so is farm equipment. New Holland's experimental hydrogen-powered NH2(tm) tractor is a project the company hopes can free farmers from the cost of purchased fuel and allow them to achieve fuel autonomy.
The concept is part of a clean energy movement at New Holland that last year saw the company lead the industry with its support for 100 percent biodiesel without complicated servicing programs or reduced machine performance.
Based on the New Holland T6000 Series tractor, the experimental NH2(tm) tractor replaces the traditional combustion engine with hydrogen fuel cells to generate electricity.
Compressed hydrogen drawn from a tank on the tractor reacts in the fuel cell with oxygen, drawn from the air, to produce water and electrons. The electrons are harnessed in the form of an electric current, which drives electric motors to power the tractor's drive train and auxiliary systems.
At this point, the NH2(tm) tractor is a 106 hp working prototype able to perform all the tasks of a T6000 Series tractor, while operating virtually silently and emitting only heat, vapor and water.
The fuel cell generates less heat than an internal combustion engine, offers a consistent output of power and does not produce polluting nitrogen oxides, soot particles or carbon dioxide. The clean operation of the tractor brings added health benefits when working in confined areas, such as barns or greenhouses.
Hydrogen-powered vehicles have been in development for several years, offering many benefits over battery-driven vehicles, which are efficient only in a stop-and-start cycle and take a long time to recharge.
The working cycle of agricultural vehicles is similar to a car running on the highway at a constant speed. Vehicles powered by hydrogen overcome these obstacles by using a compressed-hydrogen fuel to feed automotive fuel cells to generate electricity.
Given that the NH2(tm) is in a prototype phase right now, it will be some time before the tractors hit the market, says Brad Bonny, a salesman for Sunnyside New Holland
"They're a few years away from launching production," Bonny said. "But it is an actual working tractor, they ran it at a farm show."
When the NH2(tm) does hit the market, Bonny said the Sunnyside New Holland dealership will "most likely" carry the tractor.