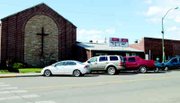 GRANDVIEW - For those who once worshiped at the Grandview location of the Salvation Army, times are changing.
The Grandview church hasn't had a service since Nov. 23, 2008, according to its readerboard, and the sale signs are up.
The Salvation Army traditionnally assists families and individuals in need of help. The group has programs for housing assistance, domestic violence and emergency assistance.
Currently, however, the office and food bank are only open at the Grandview location Tuesdays and Thursdays.
Colleen Byam has worked across the street for a number of years and said, "I used to see lines outside the door for the food bank, but now I hardly see anyone."
What will become of the programs currently offered by the Lower Valley office of the Salvation Army? According to Fatima Ruelas, who works in the office, the food bank, rental assistance and emergency funding programs will still be available out of the current office location.
She said the office is open from 10 a.m. to 2 p.m. and serves approximately 450 families each month.
"We only sold the church building," said Ruelas, explaining the Salvation Army wishes to serve the community in any way it can and is remodeling the office to provide a welcoming atmosphere for those it serves.
She said there may be a period of time during the renovations when community members might need to visit at a different location. "We don't know yet," she added, stating she wanted to assure the community that only church services and church operations in Grandview have ceased, but programs have not.