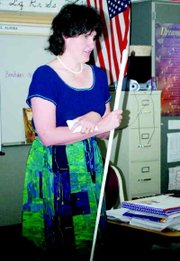 OUTLOOK - Louis Braille invented a system of dots known as Braille in order to provide those who are blind or visually impaired to read and write.
This year marks the 200th anniversary of his birth. He was blinded at the age of three and when he attended school he was frustrated with the system of raised letters used to educate those with visual impairments.
Braille's experience led him to develop a system of six dots that allowed those like him to read and write.
This is what is being studied in the fourth grade reading classroom of Peggy LaPierre at Outlook Elementary School.
Because learning about the personal experiences of others first-hand is often a useful learning tool, LaPierre invited Annee Hartzell and her assistant Cathy Joslin to visit the classroom.
Hartzell is blind herself and has been since she was in the fifth grade. Now, she teaches children who are either blind or visually impaired how to use Braille and the instruments, such as Braille writers, to read and write.
She told the students in LaPierre's classroom she is always learning because each new environment presents its own challenges. She said using sound, touch and smells to determine her surroundings helps her perform daily tasks, such as cooking.
Hartzell earned a law degree before changing careers to become an educator. She has taught others like her for nine years with a period of time spent in Honduras.
Because she grew up in Eastern Washington, Hartzell said she always had a desire to return to the area and recently moved to Walla Walla with her husband and two teenage children.
Hartzell said, "Braille makes us (those who are blind) free."
She explained, saying without Braille it would be difficult for the visually impaired to read books and write letters to others.
To demonstrate its effectiveness, Hartzell showed the students her Braille writer and her laptop computer. The Braille writer has six keys and a space bar. She said the dot system utilized in the Braille system is not altogether difficult once it is learned. Letters like "A" and "B" use one dot and two dots, respectively. "C is a little more confusing...the keys are one and four," she shared.
Because the English language uses letters and symbols not utilized in French, the Braille system has been slightly modified since it was first developed.
Hartzell also shared with the students how she walks. She told them she uses a cane and demonstrated its effectiveness. She said the one thing that is becoming more difficult and of large concern to those with visual impairments is the fact that much of the time they rely on their hearing to discern their surroundings. Because of this, today's newer hybrid vehicles are a danger to them.
"We (blind persons) are working for quiet car legislation...we would like a little sound to be added (to the quiet cars) so that we can hear them when they are coming," she explained.
LaPierre's students listened intently as Hartzell explained how she can cook and perform the same tasks as those with vision.
"I hate vacuuming, so the kids can do that for me," she joked.